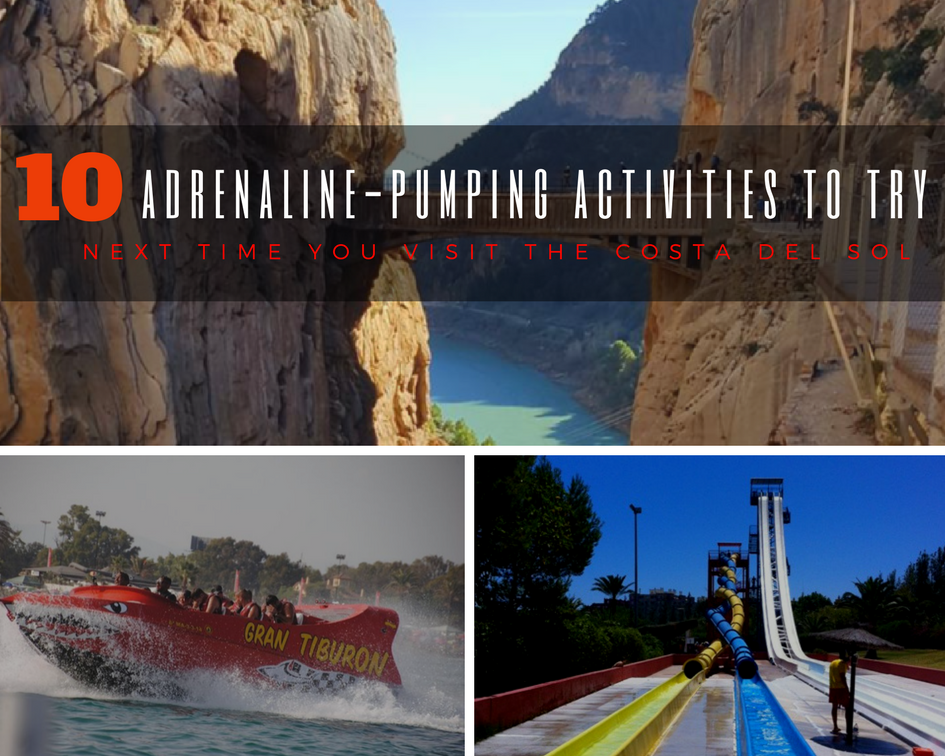 Are you looking for something more adventurous to do next time you visit the Costa del Sol?
A visit to this beautiful part of Spain doesn't mean you have to make do with sun, sea and sangria. If you're a bit of an adrenaline junkie, you're going to love this list of 10 exciting activities to try next time you are here.
If you're travelling with kids, you might want to take a look at our monster blog post featuring 50 fun things to do with kids on the Costa del Sol, we guarantee you won't have any kids complaining of boredom with this list under your belt! 😊
#1: Buggy Safari
These self-drive guided buggy safaris are great fun for all the family. You'll climb aboard a two-seater, road-legal and easy-to-drive buggy and speed through the Andalusian countryside splashing through shallow rivers following the old trade routes and cattle tracks to discover wonderful groves, be it Almond, Olive, Lemon or Oranges. The tour includes many stops allowing you to take in the vista and capture these treasured moments on your camera. One of these stops is at a typical Spanish 'Venta' so that you can enjoy a refreshment en-route.
Price: €145 for a shared buggy
Location: Mijas Costa
#2: Caminito del Rey
Since re-opening this stunning walkway has earned the title of 'Worlds scariest walkway'. A short stroll along its narrow wooden planks and you'll soon understand why!
Built along the rock face of the Gaitanes gorge in a beautiful area called El Chorro, El Caminito del Rey is a must-visit if you enjoy the outdoors and aren't bothered by heights – at some points along the walkway, you'll be 100m above the river bed.
A visit to the Caminito requires a prior reservation as demand is high and there are waiting lists. We recommend you book well in advance of your holiday. You can do this by going to the official website or, if you're staying at Sunset Beach Club, contacting the Leisure Desk on the 6th floor of the hotel; they'll be happy to call and book for you.
If you'd like more information about the Caminito del Rey, we wrote a detailed blog post HERE where you'll find all the information you need, including maps on how to get there.
Price: Approx. €10
Location: Ardales/El Chorro
#3: Power Boat Ride
Take an extreme power boat ride aboard a Moggaro M700 waterjet speedboat packing more than 440 horsepower!
Skimming over the waves you'll experience 360º turns and power breaks as you scream your head off (hopefully in delight) on this 20-minute adrenaline rush. Don't believe us? Just watch the video below…
Price: Approx. €35 per person
Location: Benalmadena Marina
#4: Go-Karting
There are quite a few go-karting venues along the Costa del Sol but for simplicity's sake, we're going to recommend Kart & Fun which is located next to the Plaza Mayor shopping centre in Málaga (just by the airport).
They offer 3 types of go-cart: Extreme, for adults; Junior, for kids aged 10 to 15, and one for kids aged 5 to 10. They also offer special events such as races for groups. and prices start at €10 for kids and €20 for adults.
Price: Kids from €10 & Adults from €20
Location: Málaga (next to Plaza Mayor)
#5: Aventura Amazonia
Fancy gliding down the longest zip line in Andalusia (240 metres)?
Well, a visit to Aventura Amazonia in Marbella will allow you to do that and more! This treetop adventure park actually has 20 zip lines and 83 challenges split into different difficulty levels. From the Mini Kids circuit (4 to 6 years old) to the challenging Adventure circuit for the fearless. Better give this one a miss if you're not keen on heights. 😊
Price:
Location: Elviria, Marbella
#6: Aqualand
The Costa del Sol's largest water park is located just minutes from Sunset Beach Club (in Torremolinos). You'll find a fantastic selection of water slides including the famous Kamikaze which is one of Europe's highest water slides and features an almost vertical drop which will certainly get your heart racing.
If you'd like more information about Aqualand, you can read our in-depth review of the water park here.
Price: Children from €17 and Adults from €26
Location: Torremolinos
#7: Parasailing
Imagine flying high above the sea, harnessed into a parachute which is attached by a 200-metre line to a speedboat pulling you on a breathtaking ride with the most exclusive views of the coast… That's what you get when you go parasailing!
There are various places along the coast offering this experience. If you're staying at Sunset Beach Club you can try the watersport centre on the beach next to the hotel or you can head down to Benalmadena Marina where you'll find another company offering parasailing trips.
Price: Approx. €45 per person
Location: Sunset Beach Watersports (next to the hotel but nothing to do with us) & Playa Rafa (Torremolinos and Benalmadena Marina)
#8: Scuba Diving
We're really fortunate to have our own PADI dive centre within the grounds here at Sunset Beach Club. Guests and visitors from outside the hotel can enjoy dive lessons for beginners as well as more advanced PADI certifications.
Whilst beginners will start their scuba diving experience in the Sunset Beach Club swimming pool, more advanced divers will get to explore dive sites along the coast.
Price: €90 for the PADI 'Discover Scuba Diving' course
Location: Sunset Beach Club (Benalmadena)
#9: Paintball
Fancy a fun afternoon covered in paint? Paintball is a great activity for relieving stress and getting your adrenaline pumping. Whilst there are a few places along the Coast for practicing this activity, we think Paintball Mountain is a great choice. They offer 5 different scenarios for paintball battles and also cater for groups and special celebrations.
If you've got kids, they have Paintball Splatmaster which is specially designed for younger players aged 8+, allowing them to play safely and without injury.
Price: From €15 per game
Location: Campanillas, Málaga
#10: Kite Surfing
Kitesurfing is probably one of the most popular water sports in recent years. We've been told by pro's that, unlike windsurfing, it can be picked up reasonably quickly and you can be skimming over the waves in no time!
If you fancy giving it a go, there are various beaches along the coast where you'll see locals practising their favourite sport: Guadalmar in Malaga; Los Alamos in Torremolinos, Rio Real in Marbella or Heaven Beach in Estepona. If you'd like to try a lesson, you'll have to go to Heaven Beach in Estepona and sign up for some lessons with Freedom Kite School.
If you've got a car, we recommend you take a drive down to Tarifa, on the Atlantic coast, the mecca of kitesurfing in Europe. The wind is strong and there are literally dozens of Kite Schools for you to choose from if you want to book lessons.
Price: Lessons start from €80 for a 3-hour lesson
Location: Heaven Beach (Estepona) or Tarifa
So what do you think? Will you be trying out one of these adrenaline-packed activities the next time you visit the Costa del Sol? Let us know your favourite in the comments below 😊
Here's a Google Map which shows the location of each of the above activities.
If you're looking for a hotel for your stay, Sunset Beach Club Hotel is ideally located to serve as a base for your adventures. Just a 20-minute drive from Malaga airport, we offer comfortable apartment-style accommodation and fantastic facilities for a fun holiday in the sun. Please visit www.sunsetbeachclub.com for more information and to check availability.