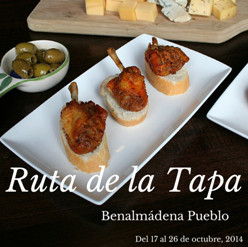 From the 17th October to 26th October, visitors to Benalmádena Pueblo will be able enjoy a delicious assortment of tapas as the town celebrates its 7th annual Tapas Route. 
Twenty of the town's bars and restaurants will be taking part in this gastronomic event which has become one of the main culinary, cultural and touristic attractions for the town during the lower autumn season.
Residents of Benalmadena and all who visit over the next few days will have the opportunity to taste a wonderful selection of tapas dishes, from the most innovative creations based on local cuisine to more traditional style dishes.