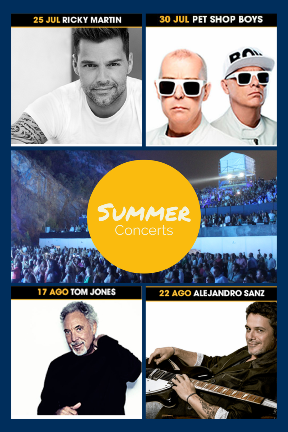 Every summer we put together a list of the best live concerts on the Costa del Sol. We know that many of you enjoy attending live concerts whilst you are here on holiday and this guide will hopefully prove useful in identifying live performances you'd like to attend.
Last years line up of world famous artists visiting the Costa del Sol to perform their greatest hits was pretty impressive; however, this year looks to be even better. The following are just some of the big names performing during the months of July and August: Ricky Martin, The Beach Boys, Pet Shop Boys, Julio Iglesias, Chicago, Tom Jones, David Guetta… and the list goes on!
As was the case last summer, many of the top stars will be performing at the Starlite Festival, which takes place from the 23rd July to the 22nd August in Marbella's breathtaking Nagueles quarry.
Another of the great venues this year is the Sohail Castle in Fuengirola which will see the likes of Chicago and Ian Anderson's Jethro Tull pass through its gates.
Below is a list – in date order – of some of the best live concerts on the Costa del Sol this summer. We've included an indication of ticket prices but please bear in mind that these could change as availability is reduced.