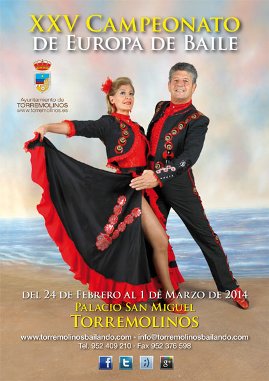 From the 24th February to 1st March 2014, Torremolinos will host the 25th edition of the European Dance Championships, an event that each year attracts around 1000 participants from all over Europe.
The extensive programme of events will have almost a dozen competitions, all taking place in one location: The 'Palacio San Miguel'. This year spectators will be able to enjoy the following competitions: The European Combined (Waltz, tango, pasodoble); the Spanish Combined; the European Tango, Waltz, Pasodoble, Cha Cha Cha, Salsa, Rock and Artistic Dance Championships.
To complete the vast programme, there will also be two group competitions: The Spanish Dance Championship and the European Dance Groups Championship.