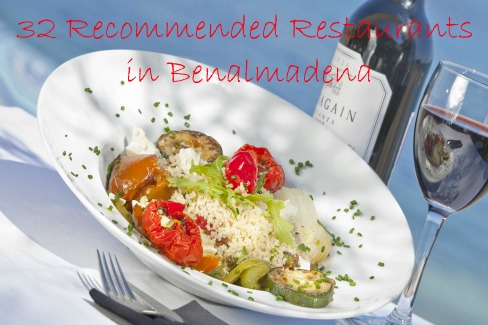 A couple of weeks ago I asked our Sunset Beach Club Facebook fans what restaurants they could recommend in Benalmadena. The response was so great that I thought I'd write a quick blog post listing them all; hopefully, it'll serve as a great guide for anyone thinking of staying at Sunset Beach Club – or any other Benalmadena hotel – in the future.
The first 14 restaurants are listed in order of popularity (number of people who recommended them) Numbers 15 through 32 were recommended at least once.
Here goes… our list of 32 recommended restaurants in Benalmádena (and nearby areas):
1)      Milan – This one got the most recommendations… You can enjoy a choice of Indian or Italian cuisine.
2)      Spanish Garden – Very popular choice with a great selection of international dishes.
3)      Wok Buffet – Located in the Marina, this buffet style Chinese restaurant is great value for money with a wide choice and selection of food to suit everyone. You pick from a selection of fresh ingredients and they are cooked in front of you.
4)      The Oasis Restaurant – Located here at Sunset Beach Club, you've got a great choice of international and Mediterranean dishes to choose from. "Great steak and lovely pizza" is what one of our fans said about the food at the Oasis.
5)      El Naranjo (also known as the Orange Tree) – Located just down the road from Sunset Beach Club (Near windmill roundabout). Great for romantic meals and special occasions.
6)      Valparaiso – Although not in Benalmadena – its actually on the road to Mijas – if you have a car it's worth the drive!
7)      The Mint Leaf – Located very near the hotel, one of our fans summed it up nicely… "Best Indian I've had!"
8)      Aberdeen Chinese Restaurant – Located in nearby 'Palm Tree Avenue'
9)      Jack's American Bistro – With stunning views over the Marina, this is another family favourite.
10)  Sabatini – Italian cuisine; located near the Bil-Bil castle and just a short walk from Sunset Beach Club.
11)  Bar 76 – Apparently they do a lovely chicken curry, great ribs and great value half portions for kids 🙂
12)  Metro Restaurant – Another great choice if you are in the Marina. Nice terrace area to enjoy views of the Marina and watch the world go by. Great for pizza and pasta!
13)  Pappays – Just down the road from Sunset Beach Club and opposite the beach; "friendly staff, cheap and food to die for".
14)  Sakura – Asian cuisine (Chinese, Thai and Japanese) also located in the Marina.
15)  Poncho's Steak House – This one is actually in Fuengirola, but reviews are very good so probably worth the trip if you like your steak 🙂
16)  The Carvery – This popular restaurant is located in the Montemar area and known for its good quality fresh food and excellent service.
17)  The Fat Fajita – Great Mexican restaurant beside the Timor Sol hotel.
18)  La Cala – Great for fresh fish and located right next to Sunset Beach Club so not too far to walk 🙂
19)  La Perla – This restaurant has a great reputation and is located in Benalmadena Town; Taxi, hire car or bus needed to get there!
20)  Horizon Bar – Next to McDonalds and just a few minutes walk from the hotel. They specialise in breakfast, brunch and sandwiches.
21)  Carmen's in Bonanza Square
22)  Ma Brady's – Located just along the promenade on the beach front, they serve traditional homemade food.
23)  Coco's Sport Bar – Although popular for watching live sports events, they apparently do great big meals… ideal if you're really hungry.
24)  Shanghai Chinese Restaurant – "Great value 5 choice set menu for €5.25" …enough said.
25)  Angus Steak House – Another favourite restaurant in theMarina and a good choice if you're looking for a great steak.
26)  Da Fano – Italian restaurant in the Marina… "Their pork chops are delicious"
27)  Amigos Mexican Grill – If you're in the Marina and fancy Mexican food, look no further.
28)  Restaurante Cristal – Local favourite with great 3 course set menus and just a few minutes walk from Sunset.
29)  Okie Dokie's – "fab service and really friendly an enthusiastic staff" –  located in the Marina with international cuisine and great choice of cocktails!
30)  Ruby's – If you are in the Marina and fancy an Indian, try Ruby's.
31)  Amigos Mexican and Indian Restaurant – Just across the road from Sunset Beach Club (towards Torrequebrada) this new restaurant seems to be very popular. Perfect if you like your spicy food!
32)  Luna Beach Club – Although no-one actually recommended our beach bar and restaurant (as it's so new), I thought I'd be cheeky and add it in. The food is fantastic and great value for money and the location is amazing! You can see some of the delicious dishes available at the Luna Beach Club website.
Well, that list should keep you busy for your next visits to Benalmadena!
A big thank you to all our Facebook fans for helping us put this great list of restaurants together! If you'd like to add to the list, feel free to do so in the comments below. Stay tuned for part 2 of this post when we'll be creating a new list of Benalmadena restaurants, this time recommended by our staff members; it'll be a real insider's guide!
PS. If you'd like to print out this restaurant list, you can download a pdf version HERE.