For two weekends in September, the white village of Guaro becomes the centre of andalusi music and culture. Every year, this traditional village hosts one the most popular and entertaining festivals of the summer: The Festival of the Luna Mora.
The streets of the "Old Town" come to life with musicians, dancers and artists, allowing visitors to travel back in time (almost 5 centuries) and experience traditional Andalusi culture.
20,000 candles light up the summer sky and the medieval market where visitors can stroll through stands where artisans from all over the world exhibit their products; gifts, hand made goods, clothing, traditional foods, are just some of the treats on show. Street theatre performers and dancers mingle with the crowds and contribute to making a visit to this festival truly memorable.
The village's new auditorium will host an amazing selection of live concerts over the two weekends. Perhaps the most eagerly awaited will be the concerts of Spanish guitar legends Paco de Lucia and Vicente Amigo – you'll have to hurry though as tickets are selling out quickly!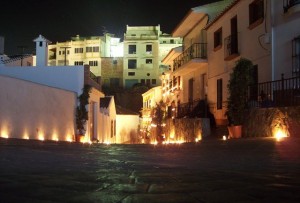 If you want to try something different and enjoy and entertaining evening with the family, take a drive up to Guaro (approx 1 hour from Sunset Beach Club) and take in the sites of the "Luna Mora", you won't regret it!
So when is it? – 10th, 11th, 17th & 18th September.
What time? – Medieval Street market starts at 5pm, the concerts are a little later: 11pm.
How do I get there? – Drive to Marbella and from there take the Ojen road. Follow signs to Guaro.