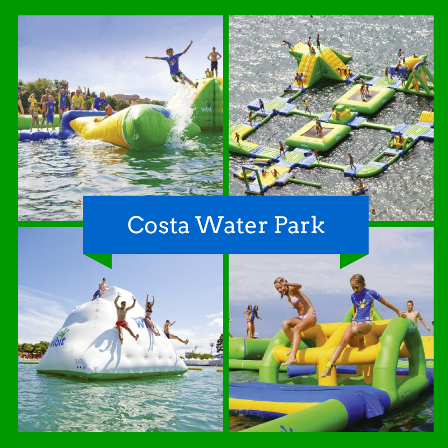 Fancy trying a fun new water park where you'll be able to jump, slide, dive and test your balance skills? 
If you've been to the promenade in Marbella, Puerto Banus or Fuengirola, you may well have seen some bizarre looking inflatable structures floating about 100m off shore. Well these are actually new state of the art water parks where you and the family will have a whale of a time!
Costa Water Park actually has 4 parks at different locations along the Costa del Sol: One in Puerto Banús, one in Marbella and three in Fuengirola (just 10 minute drive from Sunset Beach Club). 
Each of these impressive structures contains 800m2 of water attractions for the whole family including a variety of water slides, trampolines, jumping cushions, climbing walls and other challenges, in all different shapes and sizes.
Check out the video below to see what you can expect…
Safety comes first at Costa Water Parks: all are designed and built to the highest safety standards, with constant supervision by professional life guards. The park actually makes exclusive use if Wibit products which have EN15649 and TUV warranty of security and quality.
How much does it cost?
There are two options. You can pay for just one hour which costs 10€ per person (adults and children above 6 years) or you can grab a day pass for 25€!
You can pay at the ticket booths located on the beach in front of each park but please make sure you take cash as credit cards are not accepted. Once you've paid you'll be given a special wrist-band and a life jacket to enter the park.
Opening Hours
Costa Water Parks are open during the summer months of June, July, August and September from 11am to 8pm every day.
Where are the water parks?
For Sunset Beach Club guests, your best option is to head to Fuengirola where you have a choice of 3 different water parks. The map below highlights where each one is located.

Who's up for a fun session of jumping and sliding at Costa Water Park?