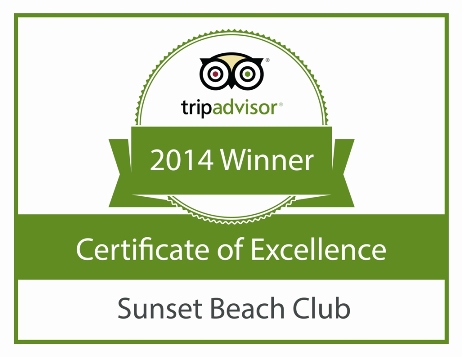 We're delighted to announce that Sunset Beach Club has received a Tripadvisor Certificate of Excellence award for the second year running. Honouring hospitality excellence, this highly recognised accolade is only awarded to establishments that consistently achieve outstanding traveller reviews on Tripadvisor. 
The world's largest travel site stated that establishments awarded the Certificate of Excellence are located all over the world and represent the upper echelon of businesses listed on the website. That makes us all, here at Sunset Beach Club, even prouder of this achievement! 🙂
Have you ever wondered how the Certificate of Excellence winners are selected? We certainly have and the answer, although a little on the technical side, makes perfect sense.
TripAdvisor's proprietary – and highly complex – algorithm takes into account review ratings to determine the establishments which are awarded the accolade. Businesses must maintain an overall TripAdvisor bubble rating of at least four out of five; however, review volume, recency of reviews, business' tenure and popularity ranking on the site are also required criteria.
We're all delighted to receive this award, but no one more so, than our General Manager, Mark Wardell, who had this to say:
"The entire team here at Sunset Beach Club are delighted and proud to have been awarded the TripAdvisor Certificate of Excellence for 2014. We'd like to thank all of our past guests who chose Sunset Beach Club for their holidays and who took the time to complete a review on TripAdvisor. Receiving this award is a true vote of confidence to our business and our continued commitment to service excellence."
A big THANK YOU to all our loyal guests who took the time to write a review on Tripadvisor and helped us win this award! We look forward to welcoming you back again soon.