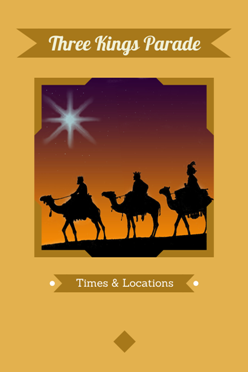 This Sunday night sees the arrival of the Three Kings, Gaspar, Melchor and Balthazar. Excitement is the operative word as kids (and some adults) eagerly await the arrival of the Three Kings of Orient bearing gifts for all those who have been good over the past year

The fun begins a little earlier though, as the Three Wise Men delight crowds in the traditional parades which take place in all the major cities, towns and villages on the afternoon of the 5th January.
Families will be lining the streets to catch a glimpse of the gift-bearing Kings sitting comfortably in their spectacular carriages which slowly make their way through the carefully planned routes. Make sure you take a plastic bag to collect all the sweets which will be thrown in to the crowds from the carriages!