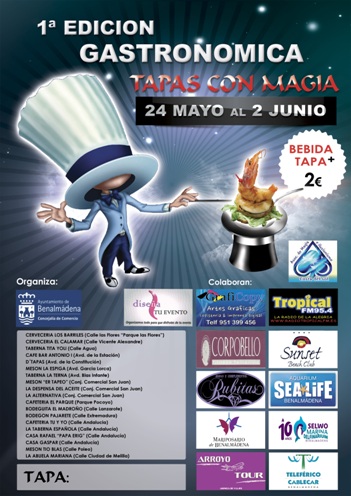 Next Friday the 24th May sees the start of a new gastronomic route in Arroyo dela Miel: 'Tapas with Magic'.
For those of you unfamiliar with these gastronomic tapas routes, they are initiatives organised by the local town hall to promote local businesses and encourage local residents and visitors to visit the town centre to enjoy some of the great restaurants and bars.
This first edition of this new tapas route will be held from the 24th May to the 2nd June and, as the name states, has the novelty of including magic shows as part of the experience (Only at weekends).
Approximately twenty bars and restaurants will take part in the event, each offering their very own and unique tapas dish to all visitors; for the – very reasonable – price of €2, you'll be able to enjoy a delicious tapa and a refreshment (soft drink, beer or glass of wine).