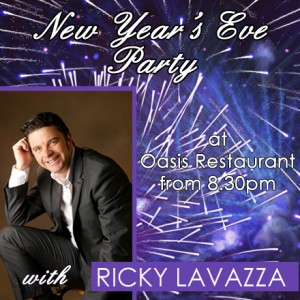 Just a few days 'til the end of the year and at Sunset Beach Club we're planning on seeing off 2012 in style!
All our guests and anyone living on the Coast are more than welcome to come and join us for a fantastic evening of delicious food, live music, dancing and a drink or two!
We'll be starting off the evening with a cocktail reception at 8:30pm followed by a 5 course gala dinner and live music. This year we've got a special treat as we've got one of the Coast's top entertainers to provide the entertainment for the evening: Ricky Lavazza! Those of you who have stayed with us before will know Ricky well as he is a featured artist here at Sunset Beach Club all year round.