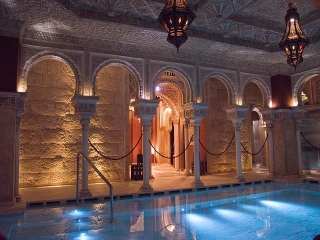 Stressed out and in need of some R&R? Staying here at Sunset should help; however, if you need a little boost, I highly recommend a quick visit to the "Agua de Oriente" Arab baths in Benalmádena.
The Arab Baths are located in the centre of Benalmadena (just next to the Marina) and a mere 20 minute walk from Sunset Beach Club. Inspired by the Nazari architecture of XI century Granada, this impressive "Oasis" of relaxation is a real treat to the senses. I think the following phrase on the "Agua de Oriente" website describes the experience perfectly:
"A journey into the past, to discover a world of sensasions"
The traditional word for this type of Arab Bath is "Hammam" and in the next few paragraphs, I'll provide you with a brief explanation of what you can expect on your visit – just in case you've never been before.
The "Hammam" Experience
As you can see by the photos, lighting and architecture are key components of the Hammam experience. When you enter the baths you are, literally, transported into another time period.