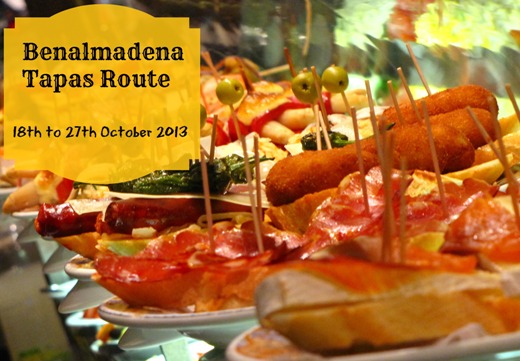 Next week sees the start of the 6th edition of Benalmadena Town's popular Tapas Route. From the 18th to the 27th October, many of the Benalmadena's bars and restaurants will take part in this gastronomic event which every year produces some mouth-watering creations!
The establishments which take part in the Tapas Route will have to prepare a special tapa designed only for this event. This way visitors will be able to make their way around the town following the 'route' and trying a different and unique tapa in each bar and restaurant; just make sure they are officially taking part in the event.
Each tapa is priced at 1.5 Euros and includes a drink (beer, wine or refreshment). This is great value; for less than 10 Euros you get yourself six delicious tapas and 6 drinks! – Note: A taxi is the recommended mode of transport after a Tapas Route session 😉
All the bars and restaurants taking part in the route also compete for the prize of 'Best Tapa'. Visitors who take part in the Tapas Route are given a 'Passport' in which they write down their favourite tapa. Once all the passports are collected, the votes are counted and the winner announced.
As is customary in these types of events, participants who complete their passports with at least 8 stamps from different establishments (you get a stamp per tapa) are eligible to enter the prize draw to win dozens of fantastic prizes including a weekend break for two people!
If you'd like to take part in this delicious and fun event, you can get your passports at participating establishments or at the town hall. Don't forget to deposit them in the special box located in the town hall square when you've finished you route!
Staying at Sunset Beach Club? It's really easy to get up to Benalmadena Town… just jump on the M103 bus which stops next to the hotel.
Let us know how you get on (in the comments below) and feel free to post photos of your yummy tapas on our Facebook page 🙂