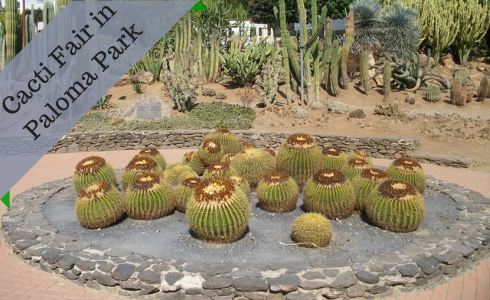 Here in Benalmadena, we are fortunate to enjoy one of the most spectacular public parks in Andalucia: Paloma Park. Its' total surface area of 100.000 square metres makes it the ideal spot to enjoy many outdoor activities and observe the diverse wildlife and flora. 
Within its grounds there is an area that houses one of best open-air collections of Cacti and other Succulent plants in all of Europe. This impressive 6000 square metre exhibit is open all year round for visitors to enjoy its stunning and varied collection.
This weekend (4th to 6th April) this area of Paloma Park will host the 8th Cacti Fair (and other collectable plants). Thousands of plants will be on exhibition with visitors able to view, buy or even exchange plants with exhibitors.
Benalmadena's Cacti Fair usually takes place in the month of July; however, this year organisers have decided to bring the date forward to coincide with the start of the Spring season. Looking at this weekend's weather forecast, we're convinced they've made a great decision; the forecast is for lots of sun and warm temperatures expected to reach 24ºC! 🙂
If you've yet to visit the Cacti area of Paloma Park, this weekend is the perfect opportunity for you to do so as you'll also be able to enjoy the Cacti Fair with its vast collection of plants.
Everyone is invited and entrance is FREE!