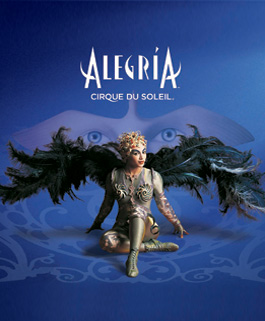 Málaga is set to become the first Spanish city to welcome Cirque du Soleil's new show, "Alegría".
From the 1st to the 4th December, Cirque du Soleil fans – and those who plan to experience their magic for the first time – will be able to watch the exciting new show at the Martin Carpena Sports and Events Hall in Málaga.
The show promises to be every bit as spectacular as previous Cirque du Soleil performances, with a total of 55 artists (because they truly are artists!) made up of 15 different nationalities. The unique mix of athleticism, artistic flair, amazing costumes, spectacular make-up and live music make this a show not to be missed.
The following is a descriptive excerpt taken from the "Alegría" website:
"Alegría is a mood, a state of mind. The themes of the show, whose name means "jubilation" in Spanish, are many. Power and the handing down of power over time, the evolution from ancient monarchies to modern democracies, old age, youth – it is against this backdrop that the characters of Alegría play out their lives. Kings' fools, minstrels, beggars, old aristocrats and children make up its universe, along with the clowns, who alone are able to resist the passing of time and the social transformations that accompany it."
Here's a quick list of the acts you'll be able to enjoy during the "Alegría" show:
Aerial High Bar
Contortion
Fire-Knife Dance
Flying Man
Hand Balancing
Manipulation
Power Track
Russian Bars
Synchronized Trapeze
Programming of the shows is as follows: 1st December at 9:30pm; on the 2nd and 3rd December at 5:30pm and 9:30pm; on the 4th December at 2:00pm and 6:00pm.
Tickets for "Alegria" are priced between €30 and €62.50 and can be purchased online at the Cirque du Soleil website www.cirquedusoleil.com .
See you at the circus!