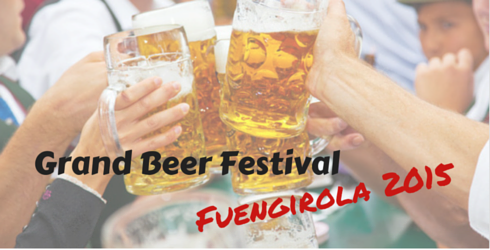 The spectacular Sohail Castle in Fuengirola will, once again, host the city's very own 'Oktoberfest': the 8th Grand Beer Festival.
This fun beer festival (Oktoberfest Olé) opens to the public from the 3rd July to the 19th July. If you're a beer lover, this is one stop you'll have to make during your holiday. You'll be able to sample the finest Bavarian beers and tasty dishes including german sausages, frikadellen and chucrut. All this accompanied by live music from a true German orchestra! They even have a special kids area with organised activities to keep the little ones amused :-).
A special feature this year will be the new VIP area offering a more personalised service and located away from the hustle and bustle of the main festival. If you want to make use of this new service, you'll have to sign up on the official web page (www.oktoberfestole.com) or on their Facebook page.
This year's event offers various themed nights with some fantastic offers on food and drink. Here's a list of all the themes and their dates:
Tuesday 7th July: Eurosausage Party – All sausages just 1€ each!
Wednesday 8th July: Master Beermaker day – All German beer at half price.
Thursday 9th July: White Party – Free jug of beer for all who dress up in white (you need to sign up on their website of Facebook page).
Tuesday 14th July: The 2nd Eurosausage Party.
Wednesday 15th July: 80's party with the best music from the decade.
Thursday 16th July: University Party where all sudents who show their university ID get a special 2 for 1 offer on German beer.
Friday 17th July: Viking Party with special entertainment and lots of viking hats to give away!
Sunday 19th July: Special end of festival party – All products at half price!
Entrance to the Beer Festival is free and the opening times are as follows:
Monday to Saturday: 7:00pm to 2:00am
Sundays: 12:00pm to 2:00am
Enjoy the Grand Beer Festival!!!
If you're looking for a nice hotel, at Sunset Beach Club we've got fantastic apartment-style accommodation, extensive activities programme for all the family and an enviable sea-front location. For more information and to check availability please visit www.sunsetbeachclub.com.