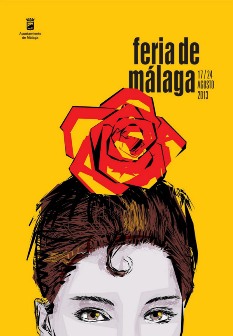 We're just a week away from the start of the Málaga Fair; undoubtedly the event of the year for the Costa del Sol's capital.
Once again, anyone who visits the city during this week long festivity will be treated to a whole host of fun and entertaining activities and events. We've gone through the 26 page official programme for the 'Feria' and picked out – what we feel to be – some of the more interesting events on the calendar. Live music, bullfighting, museum exhibitions, Kids activities, Flamenco Shows are just some of the treats awaiting you!
Here's the list:
1)      The official opening of the Fair on the Malagueta Beach (next to the port). You'll witness a fabulous firework display with music and a free live concert with local singer Vanesa Martin. (Friday 16th August at midnight)
2)      'Ciudad de Malaga' Horse and Carriage competition in the Malagueta bullring. (Sunday 18th August at 10.00pm)
3)      Magical Pirate Fair with games, workshops, storytelling, theatre, magic show and lots more. Located in Calle Alcazabilla this activity is available from 12.00pm to 3.30pm on the 19th, 20th,21st,22nd, 23rd and 24th August.
4)      Various free concerts in the 'Auditorio Municipal' located in the main fair ground. Highly popular Spanish artists such as Chambao, Merche and Andy y Lucas will be delighting crowds from 11pm most evenings. (See full guide for exact dates).
5)      Bullfighting: Throughout the week, those of you interested in watching a traditional bull fight will be spoilt for choice with some of the greatest matadors visiting the Malagueta bullring throughout the week.
6)      Flamenco Festival in the 'Auditorio Municipal' at the main fair ground. (11.00pm on the 21st August)
7)      The day fair in Malaga's historic centre. Lots of great food, drink and lots of flamenco dancing!
8)      Museum exhibitions: Throughout the week, many of the city's museums will be putting on special exhibitions; if you're an art lover, you won't want to miss this!
9)      Historical Parade to commemorate the conquering of the city by the Catholic Kings in 1487. (25th August at 7.00pm)
For a full copy of the Official Programme for the fair, please CLICK HERE.
Have you ever been to the Malaga Fair? Are you planning on visiting this year? Let us know in the comments below.
Looking for accommodation near Málaga? Sunset Beach Club is only 20 minutes drive from the centre of Málaga; we've got fantastic apartment style accommodation and great facilities for an enjoyable family holiday. Feel free to check out our website for more information… www.sunsetbeachclub.com .