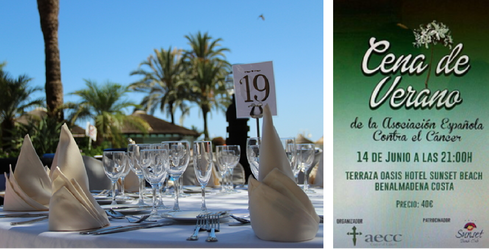 We are delighted to once again host the Spanish Cancer Association's (AECC) traditional summer gala dinner. The event will take place on the terrace of our Oasis Restaurant this Saturday the 14th June at 9:00pm.
Once again, the AECC have organised a fantastic evening which includes a drinks reception by the main pool, followed by a mouth watering 3 course dinner and live music on the terrace of the Oasis Restaurant.
The main objective of the Gala Dinner is to collect funds which will be used to continue providing cancer prevention services, investigation, early diagnosis, psychological assistance, social assistance and orientation activities.
The Spanish Cancer Association (AECC) also provides funds to support work reinsertion programmes, direct information through various programmes and the maintenance of eleven flats located near the 'Materno Infantil' Hospital in Málaga (Children's hospital). Young cancer patients, and their families, who have economic problems can stay in these flats free of charge whilst the undergoing treatment for their illness.
We encourage you all to show your support for this amazing cause by taking part in Saturday's event. Price for the gala dinner is €40 per person and includes drinks at the reception, 3 course meal with wine, a glass of cava and live music throughout the evening.
Tickets are on sale at the AECC offices in Fuengirola, open from 9:00am to 1:00pm.