If you are planning on visiting Benalmadena next week (from the 23rd June) there are a couple of events you won't want to miss: The Night of San Juan and the San Juan Fair in Arroyo de la Miel. 
The Night of San Juan is the perfect way to celebrate the arrival of the summer. All over Spain, people flock to the beaches to enjoy a magical night with bonfires, barbecues, fireworks and lots of food and drink!
Benalmadena is no exception with bonfires being lit all along its beaches. This year, there's the added attraction of a full piro-musical show (fireworks, music and lasers) which takes place just down the road from the hotel, at the Bil-Bil Castle. 
For a great view, we recommend you head down to the promenade in front of the hotel and watch the show from there. Although a little late to stay up for (1:00am) it'll be worth it! Why not head down to Salitos Bar on the promenade for a quick night cap before the firework show begins?
The San Juan Fair 2014 in Arroyo de la Miel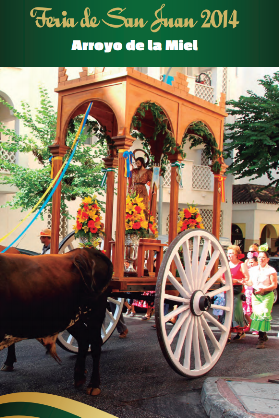 Tuesday the 24th June sees the start of the San Juan Festivities in Arroyo de la Miel. For five whole days, locals and visitors will be treated to a comprehensive activities programme which promises something for all the family.
If you've never been to a traditional Spanish 'Feria', we strongly recommend you take a stroll up to the centre of Arroyo and experience a true taste of Spanish culture. We recommend the following activities and events:
The day fair which takes places every day in the Pueblo-Sol Square and in Blas Infante. Flamenco (singing and dancing), delicious food and an endless supply of wines await you!
On the 27th June – from 11:00pm – you can dance the night away at the Grand Cuban Party which takes place in the Municipal Marquee set up at the night time fair: Mojitos on tap, animation with 5 international Cuban artists as well as gifts for attendants is just a taste of what you can expect.
The 29th June is children's day at the fair with all attractions and rides priced at just 1€. If you've got kids, this is definitely the day you want to visit as the rides on normal 'feria' days are 3€! At 9:00pm, there's a kiddies party featuring Sponge Bob, Peppa Pig, Hello Kitty, Pocoyo and lots of other cuddly friends!
So, will you be joining in the fun next week? Let us know in the comments below.