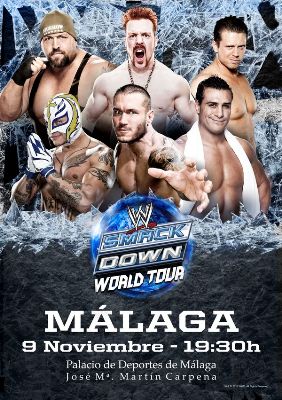 Are you a fan of WWE Wrestling? How about your kids? If you answered yes to either of these questions then you are in for a real treat!
On Friday 9th November 2012, WWE and its Smackdown World Tour will be visiting Malaga for an unbelievable night of wrestling entertainment. It's not often that these stars of the WWE visit Spain let alone Malaga so this is a unique opportunity to see all tour favourite wrestling stars live and in the flesh.
This Smackdown World Tour event will feature some great bouts including:
A Triple Threat Match for the World Heavyweight Championship: Sheamus vs. Alberto Del Rio vs. Big Show
A Fan's Choice Match featuring Randy Orton vs. Dolph Ziggler
Apart from these epic encounters, fans will be treated to lots more entertainment with their favourite wrestlers including: Rey Mysterio, The Miz, Kofi Kingston, R-Truth, Cody Rhodes, Wade Barrett, Sin Cara, Natalya and lots more…
Tickets are now on sale at www.elcorteingles.es/entradas  and range between €20 for the cheapest seats and €80 for getting right up close to the action.
The event will be held at the 'Palacio de los Deportes Jose Maria Martin Carpena' at the entrance to Málaga and starts at 7:30pm on the evening of the 9th November.
Are you a WWE wrestling fan? Are you planning on going to watch Smackdown inMalaga? Let us know in the comments below. 🙂