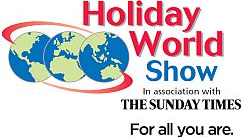 Last week my colleagues Melissa and Annemie attended the Holiday World Show in Belfast; apparently it was a great success with lots of "potential" guests enquiring about our hotel and the vast array of services we offer.
Well, this week it's my turn. My colleague Chelo and I will be manning the Sunset Beach Club stand at this year's Holiday World Show in Dublin. This year the show will be held at the RDS and will be open to the public from the 28th to the 30th January; opening times are from 1pm to 8pm on Friday and 11am to 5.30pm on Saturday and Sunday.
If you are planning to visit the Show, don't forget to visit the Spain section, and in particular, the Sunset Beach Club stand. We've got lots of information and leaflets about the hotel – and if you're really good, we've got loads of free bags and pens to give out! Don't miss the chance to enter into our Holiday prize where you can win a free 3 night stay at Sunset Beach Club!
Looking forward to seeing many of our irish guests at the Show!