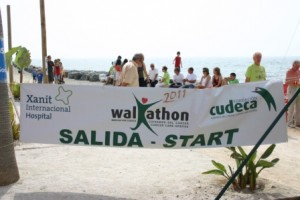 Last Sunday morning, the promenade in front of Sunset Beach Club was a busy hive of activity; hundreds of people (800) had gathered for the 2011 edition of the Cudeca Walkathon.
Every year, this popular event attracts large numbers of local residents, eager to help raise money for this much-needed charity!
Apart from the walking, there were plenty of fun activities organised for all participants: games for children, several large paellas, live music, to name but a few!
I decided to head down to the promenade at 10:30am – just before the first group of walkers set off on their 10 km route – to take some photos. If you look carefully, you'll even see the Mayor of Benalmadena and his team in some of the photos; they always show their support for Cudeca and this year was no exception, they even took part in the initial warm up exercises!
Here are the photos…
Default Gallery Type Template
This is the default gallery type template, located in:
/home/infodelmedia/sunsetbeachclub.com/public_html/live/blog/wp-content/plugins/nextgen-gallery/products/photocrati_nextgen/modules/nextgen_gallery_display/templates/index.php.
If you're seeing this, it's because the gallery type you selected has not provided a template of it's own.