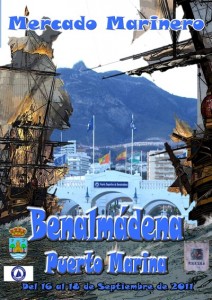 There's a new and somewhat different event for you this weekend… activities and entertainment which are sure to thrill children and adults alike: The Sailor's Market in Benalmadena Marina!
This is the first the Sailor's Market (Mercado Marinero) is being held in Benalmadena and promises fun and laughter for all who visit over the weekend.
Here's what you can expect:-
Parades and street performers (musicians, fire eaters, etc)
Fun characters such as the Pirate Captain and his buccaneers!
Variety of workshops
Special children's attractions
Theatre sketches
Children's games
The fun begins tomorrow evening – 16th september at 7pm and continues on Saturday the 17th and Sunday 18th from 11am to 2.30pm and 7pm to 1.00am.