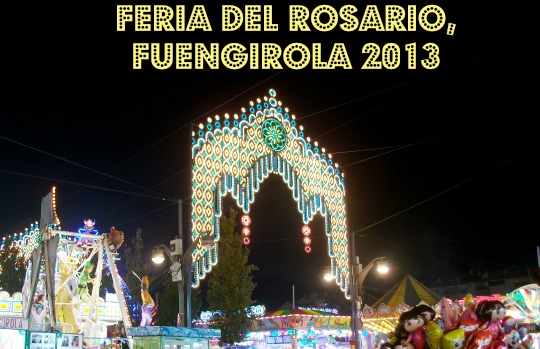 The first fortnight in October marks an important event in Fuengirola's calendar: The 'Feria del Rosario' in honour of the town's patron.
For the next week, trips to Fuengirola will include a compulsory visit to the town's main fairground for a fun and entertaining introduction to true andalucian 'feria' culture. Lots of flamenco – music and dancing – great food, wines, sherry, shows, parades and lots more await!
The Fuengirola Fair is especially attractive to horse lovers as many of the shows and events programmed during the festivities involve beautiful andalucian horses and exquisitely dressed riders.
There's lots happening during Feria week in Fuengirola; however, we've included a list of the activities and events tourists and foreign visitors might enjoy most.
Saturday 5th October 
Horse Dressage Show and Exhibition  in the Fuengirola Bullring. Starts at 12.00pm and entrance is €3
Horse & Carriage Exhibition in the Fuengirola Bullring. Starts at 6.00pm – entrance €3.
Sunday 6th October 
Official 'switching on' of the fairground lights followed by singing and dancing show by the local choir and dance group. Starts at 10.30pm.
Monday 7th October 
Traditional Flamenco Mass followed by the procession of the Patron Saint, Nuestra Sra. del Rosario. Starts at 10.30am in the Plaza dela Constitución.
Tuesday 8th October 
Equestrian Parade in the main fairground. Starts at 5.00pm.
Thursday 10th October 
Children's day at the fun fair with 50% off all rides.
Fantastic Kids Party with face painting, soap bubbles, balloon modelling and kids show. Starts at 6.00pm.
Saturday 12th October 
The Fuengirola bullring hosts a fantastic mixed bullfight with famous horseback bullfighter Diego Ventura and an amazing one-on-one battle between matadors Jiménez Fortes and David Galván. Starts at 5.00pm.
Sunday 13th October 
Musical equestrian show "Andalucia Sueña" (Andalucia Dreams), an exhibition of Andalucian horses with live flamenco show. Takes place at 6.00pm in the Fuengirola bullring with tickets starting at €13.
Sounds like it's going to be a fun and entertaining week. Are you planning on visiting the Fuengirola Fair this year?