Wedding Ceremonies
Whether you're looking for a symbolic Seafront Blessing, or a Catholic Church Wedding, we can help you choose a ceremony that is perfect for you. Our Wedding Planners can assist with any necessary paperwork.
For more information, and to check availability, click here to fill out our simple Wedding Enquiry Form.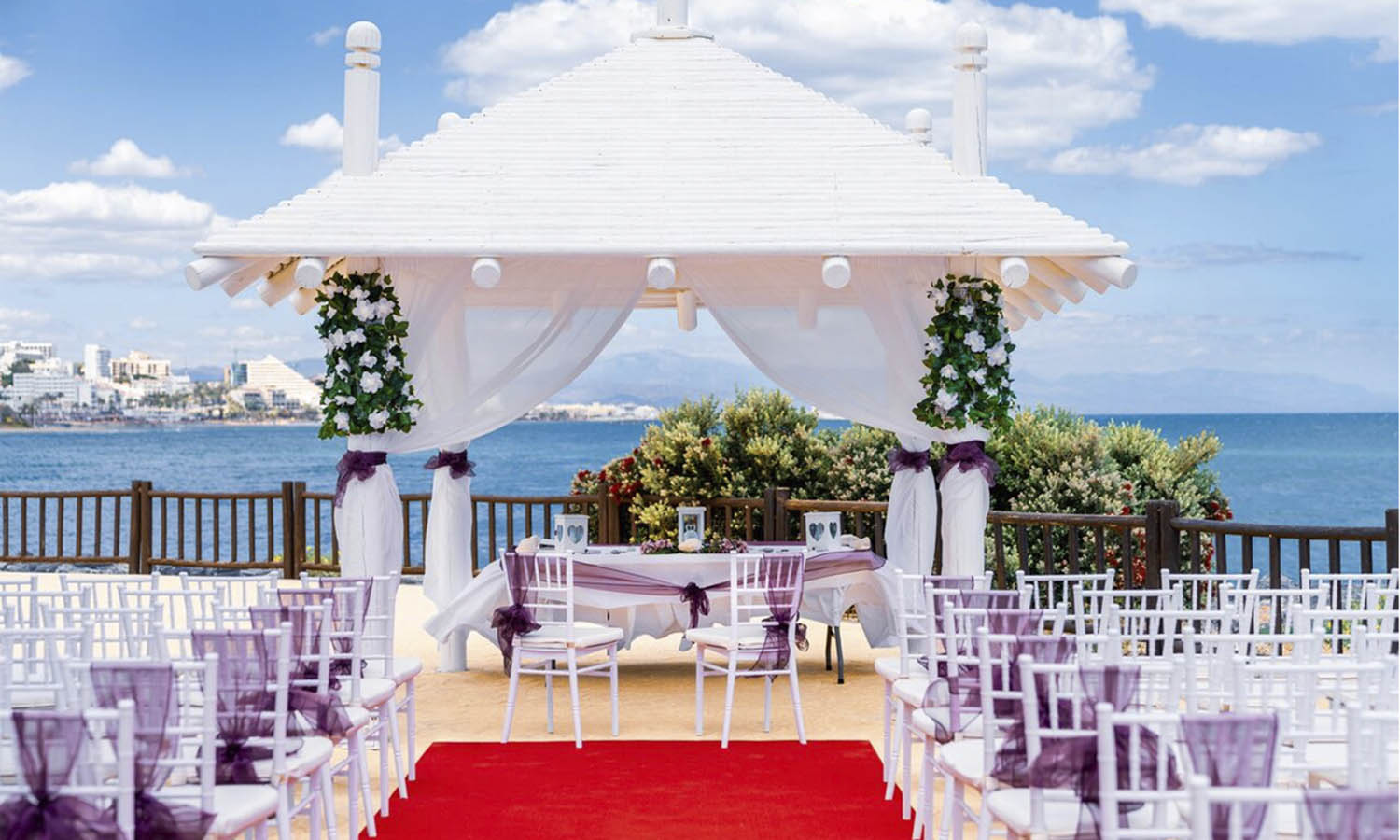 Romantic Blessings by the Sea
The Sunset Beach Club sea front promenade is the perfect venue for a romantic blessing by the sea. Romantic blessings are very popular with couples who want to enjoy the great outdoor climate of the Costa del Sol and something a little different to the traditional church setting.
The blessing ceremony is similar to that of a wedding, with reading of vows and exchanging of rings, but is not legally binding. You are able to meet with the minister before the day and have a ceremony which is right for you. All our celebrants and ministers are native English speakers.
Note: Unless you have an address in Spain and are registered as resident here, it is not possible to have a civil ceremony. Most couples therefore opt to have a civil ceremony in advance at home, followed by a blessing here in Spain.
Catholic Church Weddings in Spain
The two most popular churches used by guests staying at Sunset Beach Club are the Spanish churches of "Inmaculada Concepcion" and "Virgen del Carmen" which both offer wedding services in English and are just a few minutes from the hotel. We also have the Santo Domingo church in Benalmádena, and 3 parishes in Mijas, which is a 30 minute drive away.
Benalmadena Churches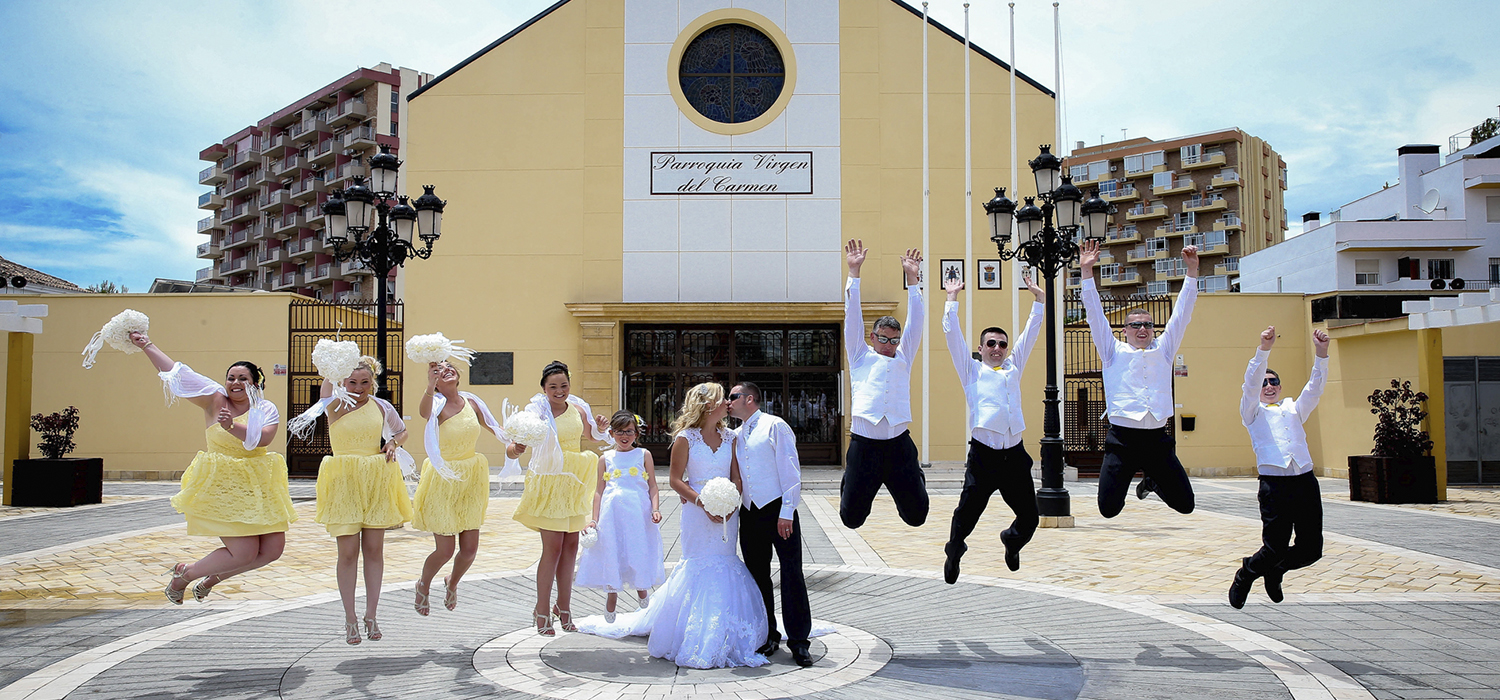 Virgen del Carmen Church
The Virgen del Carmen church is located in Benalmadena's bustling Bonanza Square. Bonanza square is one of the most touristic parts of Benalmadena and does not have such a traditional appearance, but don't let this steer you away from the charm of this more modern church and it's beautiful and traditional interior.
The parish priest speaks English and is very flexible about doing English speaking weddings. Weddings in July and August are no earlier than 18:00hrs. The ceremony is without communion, as per Spanish tradition, and takes around 35/40 minutes.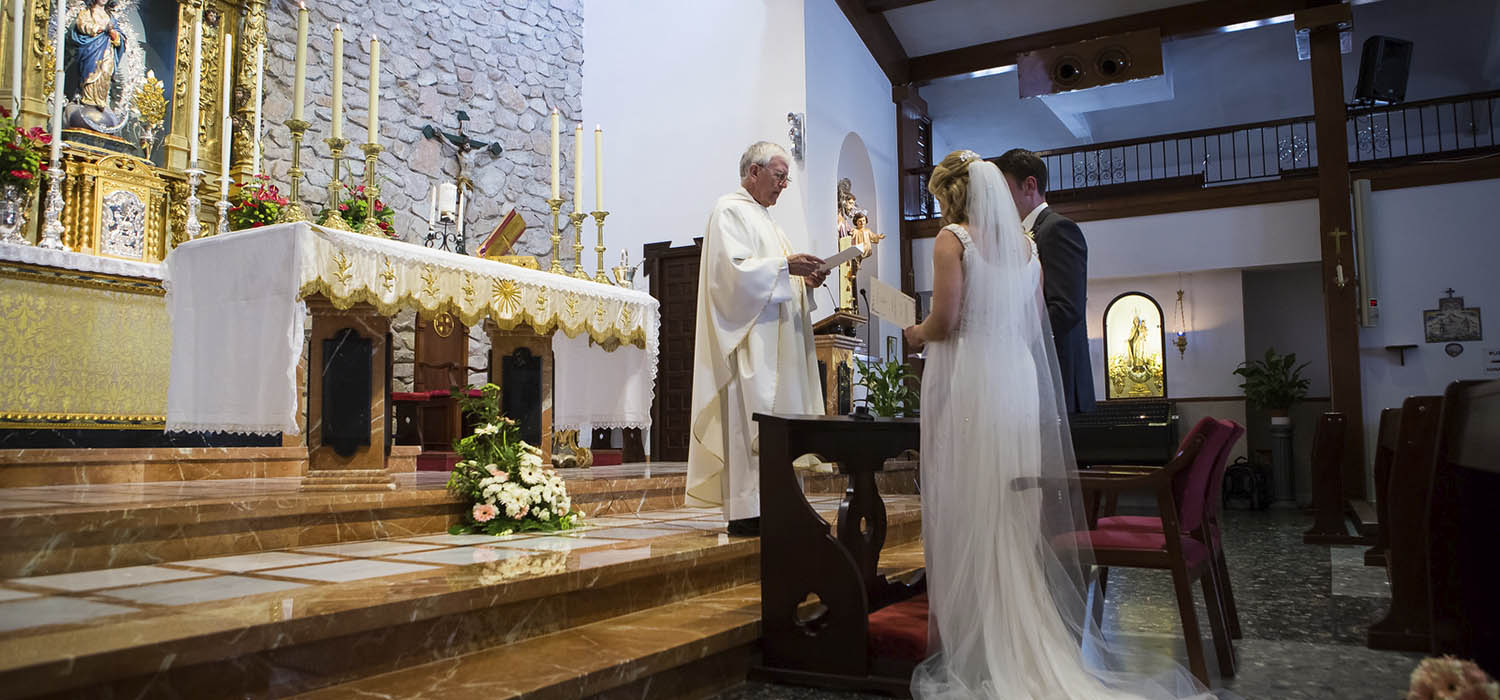 Virgen Inmaculada Concepción
Inmaculada Concepción Church is situated in Arroyo de la Miel. The Church is whitewashed and has a traditional feel.
The ceremony here would normally be with communion and takes around 1 ¼ hours. The ceremonies are at 13:00hrs, 16:00hrs and 17:00hrs. If you choose the 17:00hrs slot, the first dance would be around 23:00hrs.
The Parish priest keeps Saturdays for Spanish couples and the church is closed on Mondays.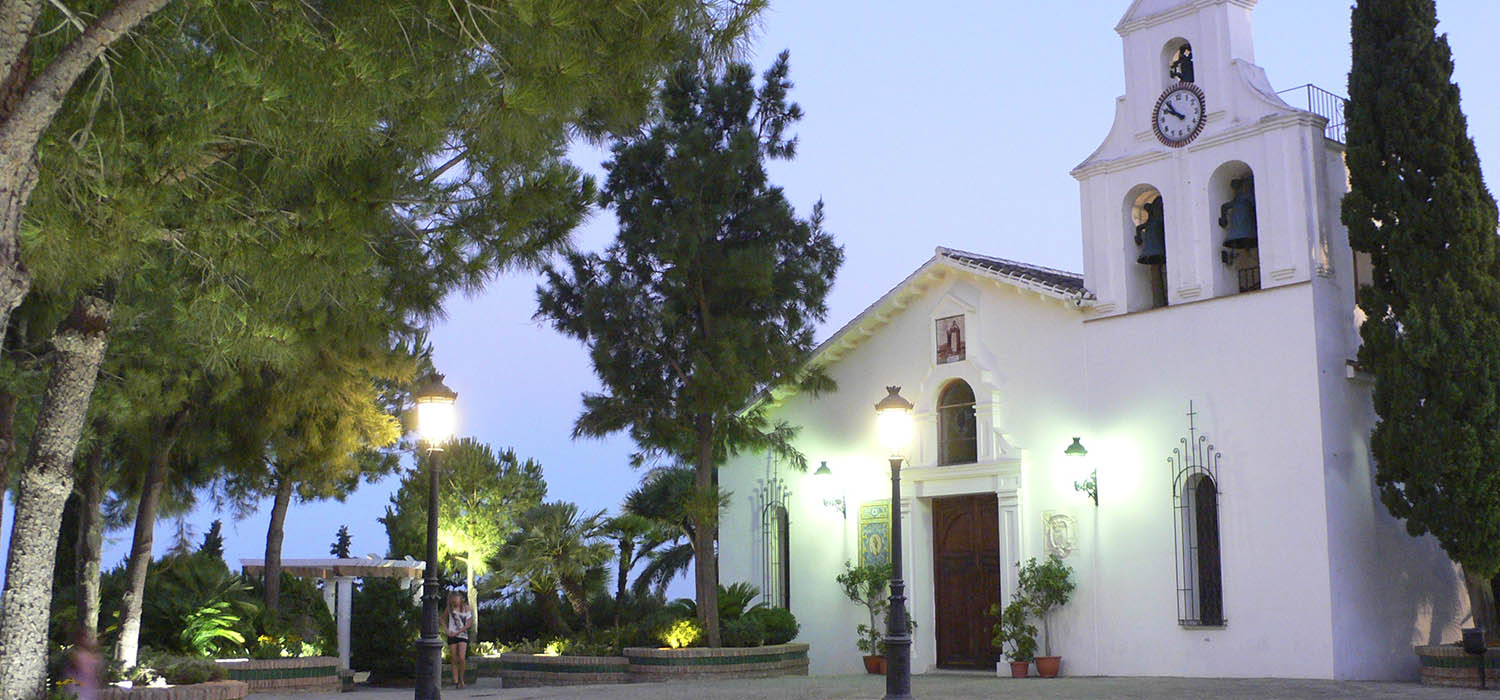 Santo Domingo, Benalmadena Pueblo
In this church Father Emilio, the Parish Priest of Arroyo has to go to Santo Domingo to open the church so he has said that he will only do weddings during Spanish hours which would be 12 noon or after 17:00hrs. As with Arroyo, the 17:00hrs ceremony gives a first dance at approximately 23:00hrs. The Parish priest does prefer to meet couples when you come out the taster meal as he likes to know who is getting married in his church. He keeps Saturdays for Spanish couples and the church is closed on Mondays.
Mijas Churches
Mijas is a small "pueblo blanco", a whitewashed village with cobbled streets lined with geraniums and nestled in the mountainside overlooking Costa del Sol with stunning panoramic views down to the sea all around it. It is a very clean and pretty place which the locals are incredibly proud of welcoming visitors to, and they love a good wedding! The journey time from Benalmadena is approx 30 minutes.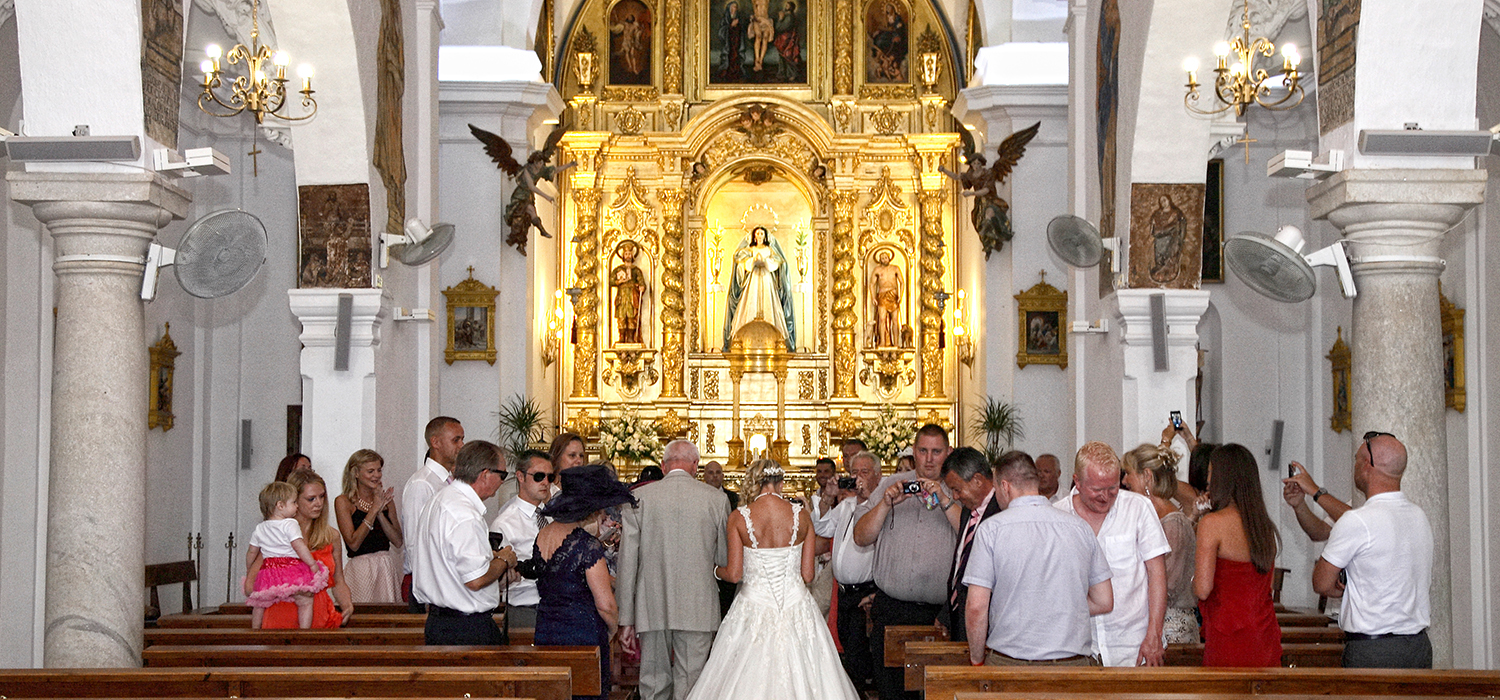 Iglesia de la Inmaculada Concepción
This church was built in the upper part of the town on top of the ruins of the castle. One of the towers (the square one) of the castle was incorporated into the church as the bell tower. Seating can accommodate up to 200 people, but such is the intimacy of the church that 50 people are lost in there. The beautiful gardens and fountains surrounding the church and the magnificent views across the coast make this a perfect wedding location.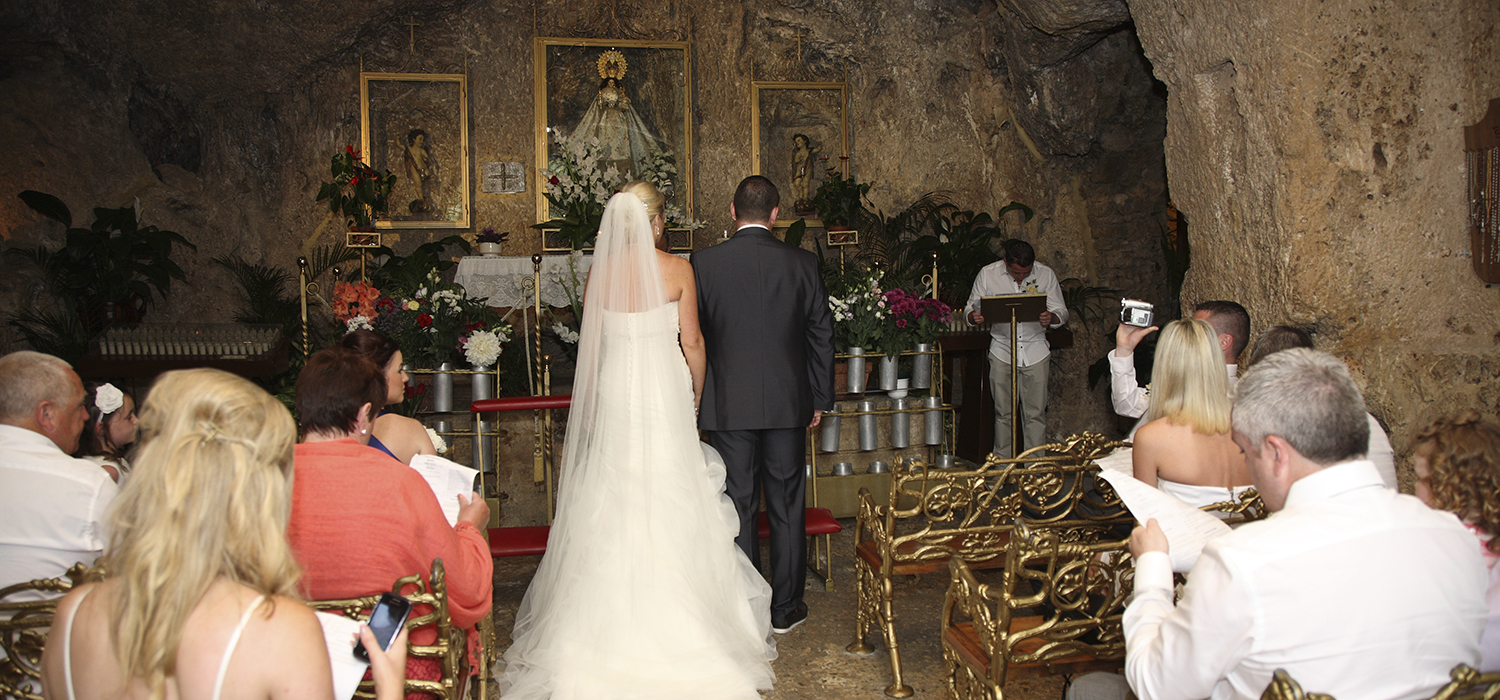 Iglesia de la Virgen de la Peña
Hidden away in a corner of the village, overlooking the wonderful valley leading to the coast, is the hermitage of the "Virgen de la Peña". It was built into a rocky outcrop by Mercedarian monks in 1520 and inside is the image of the "Virgen de la Peña", the patron Saint of the village. In 1656 work started on the sanctuary cave, which nowadays, is always decorated with flowers and pictures as offerings. It is a perfect spot for small, intimate weddings, with seating for around 20 people inside and makes for beautiful photos with the dramatic scenery and surrounding whitewashed village.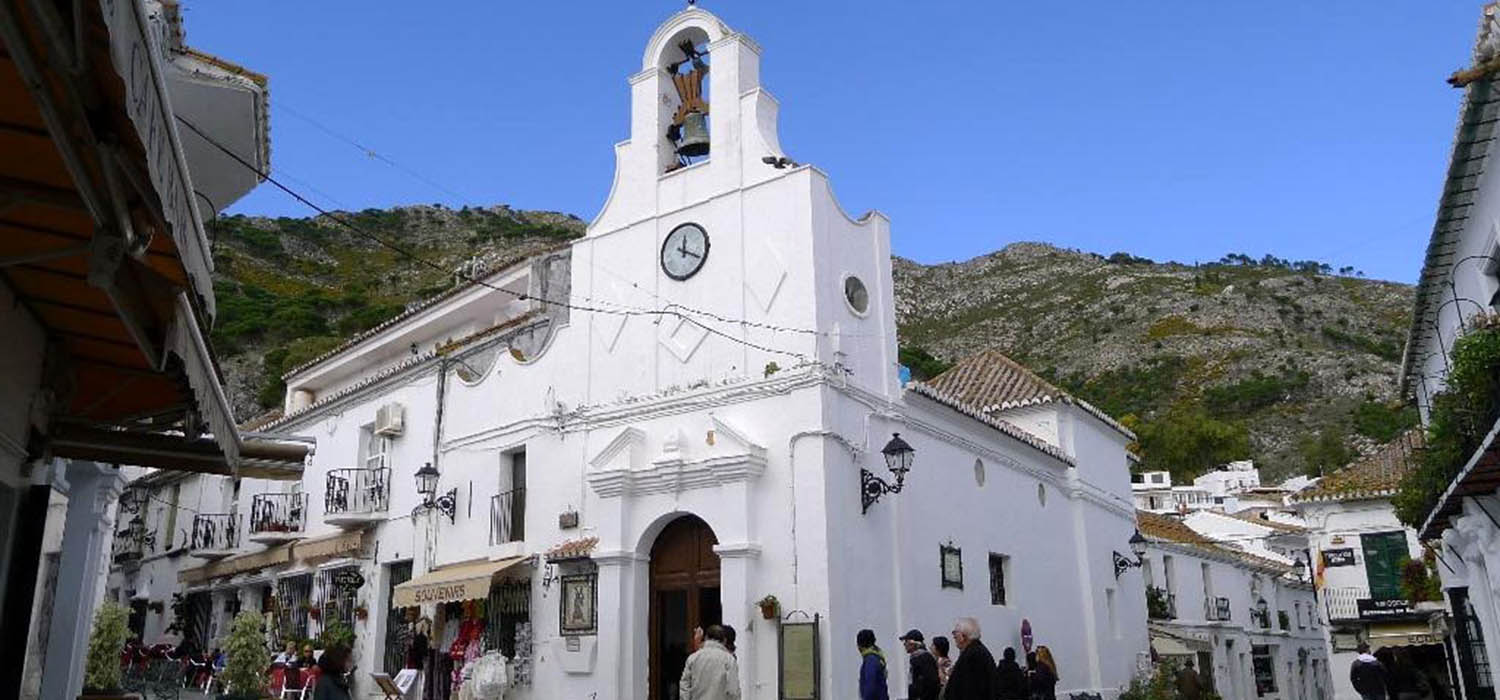 Iglesia de San Sebastian
The Hermitage of San Sebastian was built at the end of the 17th century. The main chapel is square and is topped with a semi spherical vault with many plaster decorations. There is a camarin with a sculpture of San Sebastian arrived at the hermitage, as well as the sculpture of San Jose with the child Jesus. This church is located in the busy centre of the village and can seat up to 40 people.
Information and schedules are for guideline purposes only, as they are subject to change without notice by Third Party providers. Please contact your wedding planner to book your Wedding Ceremony.
For more information about our great value wedding packages please fill out our simple Wedding Enquiry Form or contact our Wedding Coordinator Claire Mitchell:
weddings@sunsetbeachclub.com or call (+34) 952 579 400 / Ext. 7823 / (+34) 952 579 410 (Direct).