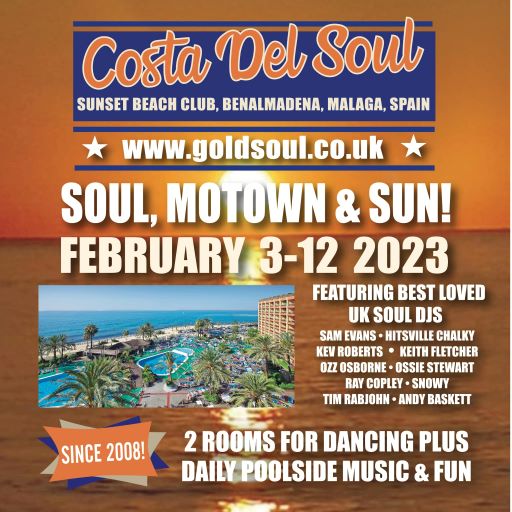 Northern Soul promoters, GoldSoul, are heading back to Sunset Beach Club this February with another edition of their winter soul break. Whilst this winter edition of their Soul event used to be for a 'long weekend', recent editions promise a fun-packed 9-day soul music experience!
As many of you know, for the last 16+ years we've welcomed GoldSoul for their week-long Costa del Soul events. These usually take place at the end of October, and are, undeniably the top soul music events on the Costa del Sol.
Building on the success of their autumn Costa del Soul holidays, GoldSoul recently (before Covid messed things up) added this new Soul and Motown Break to their calendar!
From the 3rd to 12th February (2023) Soul and Motown music fans can enjoy a fun-packed break in the sun with music every night in the Sunset Beach Club Moonlight Bar and daily lunchtime sessions on the Oasis Restaurant Terrace. (more…)