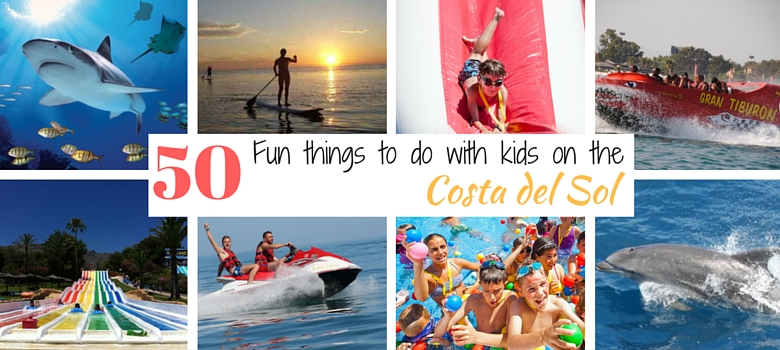 So you're planning a family holiday with the kids and the Costa del Sol is top of your list… but you're looking for some fun things to do with the little – or not-so-little – ones during your holiday.
Well, you're going to love this post as we are going to give you a list of 50 fun activities, excursions, parks, daytrips, outdoor activities, cultural activities, water parks and some inland adventure activities you can enjoy whilst you are here. We've included activities and attractions all along the Coast so it doesn't matter if you are staying in Estepona, Marbella, Fuengirola, Benalmadena or Torremolinos, you'll find something of interest in the list.
It's a long list so we've divided it up into useful sections so you can quickly browse through it and choose your favourite activities. An interactive Google Map will pinpoint the location of each of our 50 recommendations so that you can find them easily. (See end of post)
So, here goes… 50 fun things to do with kids on the Costa del Sol.
Local Parks and Wildlife
We're very fortunate to have some amazing local parks, zoos and aquariums here on the Costa del Sol. Here are our favourites and the ones we know you kids will enjoy.
#1: Biopark Zoo
Located in the neighbouring town of Fuengirola, this small but very well designed and laid out zoo makes for a great morning or afternoon out. You'll see tigers, silverback gorillas, crocodiles, snakes, and lots more! For more information you can visit their website at www.bioparcfuengirola.com or just ask at the Sunset Beach Club leisure desk on the 6th floor of the hotel where you can also buy tickets.
Price: From €14.50 for kids and €19.50 for adults
Location: Fuengirola
#2: Selwo Marina
Just next to Paloma Park in the centre of Arroyo de la Miel (Benalmadena) you'll find Selwo Marina, the only Dolphinarium in Andalucia and one of the most popular attractions on the Coast. Your kids will enjoy dolphin and sea lion shows, a visit to the penguin's ice-cold habitat, dolphin encounters and more.
Price: From €13.50 and €16.90 for adults
Location: Benalmadena Costa
#3: Zoo de Castellar
This has to be one of the Coast's best kept secrets! The Zoo de Castellar isn't your typical zoo… what makes it special is that you get to interact with many of the animals. You'll meet tigers, emus, ostrich, rabbits, snakes, monkeys, eagles, vultures, Vietnamese pigs, crocodiles, and even a Hyena named Eddie 🙂
We actually wrote about this wonderful zoo a while back. Here's the link to that post where you'll see photos and find out a little more information, including instructions on how to get there.
Price: Kids pay from €11 and adults €17 if you buy online
Location: Castellar de la Frontera
#4: Selwo Aventura Wildlife Park in Estepona
This is the largest wildlife park on the Costa del Sol and a great opportunity to see some of the Africa and Asia's largest and fiercest animals as they roam in the wild. You'll need a few hours to make your way around the whole park and a hat and sun-cream are highly recommended. You can read more about our Selwo Aventura experience here.
Price: From €14.90 for kids and €17.90 for adults if you buy your tickets online through their website
Location: Estepona
#5: Sealife Aquarium
A visit to Sealife Aquarium in Benalmadena Marina makes for an interesting and educational morning (or afternoon) out with the kids. Sharks, jellyfish, giant turtles, sea rays, a giant Pacific octopus and lots of other fascinating underwater creatures await.
Price: From €13 for kids and €16 for adults if you buy online
Location: Benalmadena Marina
#6: Paloma Park
If you're staying anywhere near Benalmadena, a visit to Paloma Park is a definite 'must'. This 200,000m2 park is located in the centre of town and boasts beautiful garden areas as well as a large lake in the centre. The kids get to run around, feed the large fish and turtles in the lake and play in the large kiddie's park with climbing frames and slides. They'll also come across lots of animals running freely through the park; Peacocks, hens, chickens, rabbits and hares are just some of the friendly creatures roaming the park.
Price: FREE 🙂
Location: Benalmadena Costa
#7: La Bateria Park
Located in Torremolinos, Parque la Bateria is another popular option for families with kids. There are plenty of green areas and playgrounds and you can also hire boats to row on the lake.
Price: FREE
Location: Torremolinos
#8: Butterfly Park
With a collection of more than 1500 exotic butterflies from over 150 different species, this unique park is well worth a visit. Located just outside Benalmadena Pueblo, this 2000m2 complex features butterflies flying freely in their very own tropical paradise with plants, flowers and waterfalls. Don't forget your camera as there are plenty of photo opportunities for you and the kids.
Price: From €8.50 for kids and €10 for adults
Location: Benalmadena Pueblo
#9: Crocodile Park
The Crocodile Park is home to more than 200 crocodiles, including 'Paco', a 600 kg monster croc! Visits last a couple of hours and include a guided tour and live demonstrations from expert handlers. One of the highlights of the visit is the opportunity to hold a live croc in your arms!
Price: From €12 if you buy online
Location: Torremolinos (Next to Aqualand)
Water Parks
#10: Aqualand Torremolinos
The largest water park on the Costa del Sol, Aqualand offers a fantastic selection of exhilarating water slides coupled with excellent facilities (restaurants, bars, sunbathing areas). Adrenalin junkies have to try the Kamikazee, one of the highest slides in Europe. We wrote about our experience at Aqualand here if you'd like a little more information.
Price: From €18 per child and €26 per adult if you buy online
Location: Torremolinos
#11: Aquamijas
Although a little smaller in size than Aqualand, the Mijas Water Park (recently renamed Aquamijas) promises a fun day out for all the family. With a wide selection of water slides for children of all ages, your kids will have a ball!
Prices: From €13.20 per child and €22.50 per adult purchasing online
Location: Mijas Costa
Adrenalin Rush / Outdoor Adventure
#12: Aventura Amazonia
Enjoy an exhilarating adventure in the treetops. Aventura Amazonia has 83 challenges in the trees and 20 ziplines distributed over 6 adventure circuits. You'll also get the chance to launch yourself down the longest treetop zipline in Andalucia (240 metres in length).
There's a mini-kids area for children from 4 to 7 years of age and plenty of challenges for children above 7 years and adults.
Price: from €17 to €24 (depending on age)
Location: Elviria (Marbella)
#13: Tivoli World
The Coast's longest-running amusement park, Tivoli World is a must-visit if you have kids. With a great variety of fun rides, daily live music and dance shows and an ample selection of restaurants and bars, you're guaranteed a good time!
Prices: From €19.95 if you buy your entrance ticket online
Location: Benalmadena (Arroyo de la Miel)
#14: Costa Jump
Although not an outdoor adventure, this certainly qualifies as an adrenaline rush! The Coast's first and only trampoline park offers an enormous indoor arena filled with 50 interconnected wall to wall trampolines. Enjoy the basketball slam dunk, dodgeball, foam pit and more!
Price: From €8
Location: San Pedro de Alcántara
#15: Fuengirola Zip Line
Just below Fuengirola's famous Sohail Castle you'll find an adventure company offering zip line rides across the river! For those who are less adventurous and prefer something a little more relaxing, there are pedalos and kayaks you can hire allowing you to navigate the river's estuary. Only available on Sundays from 18:00h to 22:00h.
Price: €6
Location: Just below Sohail Castle in Fuengirola
#16: Go Karting
Fancy go karting? There are a few locations along the Coast where you can test your driving skills. You can try FunnyBeach in Marbella, the Karting area on the roof of the Myramar shopping centre in Fuengirola or the karting at Plaza Mayor shopping centre next to Málaga airport.
Price: Prices vary depending on location but to give you an idea, the kiddie's karts at the Myramar cost €10 for 10 minutes.
Location: Marbella, Fuengirola, Málaga
#17: Horse Riding
There are plenty of stables along the coast but we recommend Rancho La Paz near Fuengirola. They offer 1 or 2 hour horse riding excursions through the countryside and even offer a pick-up service if you're staying with us at Sunset Beach Club.
Price: €40 for 2 hours
Location: Fuengirola
#18: Buggy Offroad Adventure
Speed through the Andalusian countryside in a buggy. Our friends at Rangers Buggy Safari offer a tour which lasts 3 hours and on which you're guaranteed to get wet and muddy as you speed through the fantastic countryside and make your way inland. The scenery is spectacular as you drive past olive and orange groves, cork trees and plough through river beds. Cameras are a must as you'll be stopping to take in the views and take unforgetable holiday snaps.
More info here .
Price: €145 for 2 people in a buggy for a 3 hour excursion
Location: Mijas Costa
Activities on the beach and in the sea
#19: Water Parks in the Sea
Costa Water Parks is a local company which has inflatable and floating water parks at different locations along the coast. You can't miss them as they are located about 100m from the beach and you'll probably see kids and adults bouncing around on these fun and challenging structures.
Price: €11 per hour or €25 for a full day pass
Location: Sotogrande, Puerto Banus, Mijas Costa, Fuengirola and Benalmádena (in front of Bil-Bil Castle)
#20: Dolphin and Whale Watching
Would you like to see dolphins and whales in their natural habitat? You've got a few options… if you staying near Benalmadena, there are several boat charters which offer dolphin watching excursions. If you've hired a car, we recommend you drive down to Tarifa, on the Atlantic coast, and book one of their dolphin and whale watching excursions. It's a bit of a drive but they pretty much guarantee viewings (if not you get a ticket to go out another day for free). The company we work with and recommend is called Turmares (tel. 956 680 741) and they are the only ones with a glass bottom boat which allows you to see the dolphins and whales from an underwater perspective.
Price: From Tarifa: €20 for kids and €30 for adults / From Benalmadena: €9 for kids and €16 for adults
Location: Benalmádena Marina and Tarifa Port
#21: Pedalo Fun
Most beaches along the Coast have areas where you can rent out a pedalo for half an hour or an hour. Most of the newer models come equipped with a mini slide allowing the kids to slide into the sea for added fun!
Price: Usually €18 to €25 per hour, depending on where you are on the Coast
Location: You'll find pedalos for hire on most of the big and popular beaches. If you're staying at Sunset Beach Club there's a place just 50 metres from the hotel 🙂
#22: Jetskis
Hire a 2 man jetski for an exhilarating ride skimming over the sea and jumping waves. As with the pedalos, you'll find plenty of places to hire a jetski. Here are a few we can recommend along the coast:
Marbella: Funny Beach
Benalmádena: Sunset Beach Watersports (next to our hotel but nothing to do with us)
Torremolinos: Playa Rafa Watersports. They also have a free pickup service from hotels in Torremolinos and Benalmádena Costa.
Price: Approx. €50 for a 15 minute ride
#23: Parasailing
If you aren't afraid of heights and would like to experience some of the best views of the Coast, you'll want to try Parasailing. Get towed behind a speedboat on the end of a 200 metre cable!
Price: Approx. €45 per person
Location: Marbella Port, Fuengirola Port, Sunset Beach Watersports (Benalmádena), Playa Rafa (Torremolinos)
#24: Extreme Jet Boat Experience
Jump aboard this Moggaro M700 Waterjet speedboat with more than 440 horse power where extreme sensations are guaranteed! 360º turns and power breaks will have you screaming in delight (or terror) on this fun ride.
Price: Approx. €35 per person for a 20 minute thrill ride!
Location: Benalmádena Marina, Playa Rafa (Torremolinos) or Fuengirola Port
#25: Stand Up Paddle
One of the most popular water sports at the moment, and one that all the family can enjoy, Stand Up Paddle or SUP is fun activity you can practice at various locations along the Costa del Sol. We recommend 'La Mar de Bien' who are located on Torrevigia Beach in Benalmadena (Where Luna Beach Club is). They offer rentals and lessons.
Price: Rental – €15 for 1 hour / Lessons – €28 for 2 hours
Location: Torrevigía Beach in Benalmadena (Near Sunset Beach Club Hotel)
#26: Scuba Diving
At Sunset Beach Club we've got our very own PADI Dive Centre and Dive Shack onsite. They offer courses from beginner to advanced; you'll start off with lessons in the pool and then make your way out to one of the dive spots located just off the beach next to the hotel. You can get more info from the Sunset Beach Club leisure desk calling 952 579400 (ext. 7821) or visiting www.divinginspain.com .
Price: €90 for the PADI 'Discover Scuba Diving' course
Location: Sunset Beach Club
Things to do in the evening
#27: Ten Pin Bowling
Always a fun activity for all the family, there are a couple of bowling alleys on the Coast. One is on the road to Mijas Golf from Fuengirola (Que Bowling) and the other is in the Plaza Mayor Shopping centre near Málaga airport.
Price: Less than €10
Location: Mijas (Que Bowling) & Plaza Mayor Shopping Centre in Málaga
#28: Free Musical Shows
During the summer months (June, July, August & September) Sunset Beach Club hotel offers free shows in the evenings including fabulous tributes to your kids' favourite musicals. Please check the Sunset Beach Club hotel Events Calendar to see the show timetable.
Price: Free
Location: The Moonlight Theatre at Sunset Beach Club Hotel in Benalmadena
#29: Mini Golf
Fancy a quick game of mini golf before dinner? If you're staying in Benalmadena, there's a great little place called Blue Kiwi located just 200m from the Windmill roundabout. Whilst the kids enjoy a game of mini golf, Mum & Dad can relax at the bar enjoying the gorgeous views 🙂
Price: €4 per person
Location: Benalmádena Costa
#30: Go to the cinema
There are a few cinemas on the Coast which show the latest movie releases in English. If you're looking for something to do when the weather isn't great or you need a little break from walking and sightseeing, this is a great option!
Prices: Depends on the cinema and the say; usually from €5 per person
Location: Puerto Banús cinema, Miramar Shopping Centre (Fuengirola) and the Yelmo Cinemas in Plaza Mayor Shopping Centre in Málaga.
#31: Local Fun Fairs
During the warmer spring and summer months, many of the local towns and cities celebrate their local 'ferias' (fairs). Lasting anything from 5 days to 10 days, they all feature fun fairs in the evenings with lots of rides and activities for all the family. Here's a list of some of the top 'ferias' along the Coast (exact dates vary from year to year):
June: Marbella and Arroyo de la Miel (Benalmadena)
July: Estepona
August: Málaga
September: Torremolinos and Mijas
October: San Pedro de Alcántara
Price: Rides normally cost from €3 unless you go on children's day when all rides are half price.
Daytime excursions, activities & trips

#32: Adventure Fun at Prison Island and Laser Island
Prison Island is an adventure park / escape room inspired by the classic TV show 'Fort Boyard' where you have to use teamwork to escape from the 'prison' cells in the shortest amount of time.
Price:
Kids up to 12 years: from €12
Adults: From €14
Laser Island is the new theme park where you'll enjoy a fun game of 'Laser Tag'. You're team will have to obtain as many points as possible!
Games have a duration of 12 and 24 minutes with little breaks between.
Price:
Kids and adults from 12 years of age:
12 minutes: €7
24 minutes: €13
Extra game: €5
Location: In Benalmadena Marina
#33: Kiddies Fun Parks
If you've got younger kids, some of the local kiddies fun parks make for a great few hours of entertainment. Most of these parks offer a whole range of different adventures for the little ones including slides and ball pits. Here are some of our favourite kiddies parks on the Costa del Sol:
Kidz Kingdom: Bel-air (Estepona)
Mini-golf park: (Torremolinos
Sould Park: Fuengirola Port
Price: This varies depending on the park but expect to pay between €5 and €10.
#34: A trip on the Benalmadena Cable Car
For some of the most stunning views of the Costa del Sol, we recommend a trip up Benalmádena's 'Monte Calamorro' on the cable car. Once you get to the top you can enjoy a walk along the specially designated pathways or watch the spectacular birds of prey exhibition. Don't forget your camera as the views are out of this world!
Price: From €10 for a child (3 to 10) return and €12.90 for adult return
Location: The cable car leaves from the Tivoli World parking area in Arroyo de la Miel (Benalmadena)
#35: Ice Skating
Did you know that Benalmadena has an ice skating rink which is open all year round? Whilst not the typical activity you'd associate with the Costa del Sol, if you want to get out of the sun and heat for a little, this is a great option for a fun-packed afternoon. For more information, you can check out this blog post we wrote about the Benalmadena Ice Skating Rink.
Price: From €6.50
Location: Arroyo de la Miel (Benalmadena)
#36: A ride on the tourist train
If you're near Benalmadena or Fuengirola, both of these cities have a tourist train which takes you on a local tour. The Fuengirola 'City Tour' train takes you on a 45-minute trip and visits Fuengirola's main attractions. The Benalmadena Tourist Train links The Marina with Tivoli world and will take you past local landmarks like Paloma Park on a journey which lasts 1 hour.
Prices: Fuengirola: From €4 / Benalmádena: €5
Location: Benalmadena Costa and Fuengirola
#37: A Day of Fun with Dizzy and Pablo
If you're staying at Sunset Beach Club during the summer months, the animation team have a fun packed day of activities for kids aged 4 to 12. Featuring the hotel's mascots, Dizzy the Dolphin and Pablo the Pirate, the day includes arts and crafts, face painting, games in the pool and lunch. You can find out more information here
Price: €15 per child
Location: Sunset Beach Club hotel's Kid's Club
#38: Visit the World's Smallest Chocolate Factory
For a sweet treat, take the kids up to Mayan Monkey Mijas, a wonderful little chocolate factory where kids can make their own chocolate bars. We actually wrote all about Mayan Monkey Mijas in this blog post on our blog.
Price: €11.70 for attending the chocolate-making workshop and you get to keep the 3 chocolate bars you make!
Location: Mijas town
#39: Visit the Monkeys on the Rock of Gibraltar
A visit to Gibraltar to visit the Barbary Macaque Monkeys is a fun experience for kids and adults alike. The top of the rock is home to the only free-living monkeys in Europe and a visit to Ape's Den provides the perfect opportunity to see semi-wild primates up close. You need to be careful though as they can be mischievous. To see the monkeys you can take the cable car to the top of the rock, take a guided tour with a local tour company or taxi, or you can drive your own car to the top of the rock (charge applies).
Price: It depends on how you plan to get to the top of the rock. The cable car is probably the cheapest… From £5
Location: Gibraltar
#40: Skate Parks
If your kids are into skateboarding or BMX, most of the major cities have specialised skate parks where these popular sports can be practised. One of the biggest is the one located next to the Miramar Shopping Centre in Fuengirola!
Price: Free
Location: Miramar Shopping Centre (Fuengirola), Arroyo de la Miel, Marbella, San Pedro de Alcántara, Málaga
Cultural activities & excursions
#41: The Nerja Caves
Take your kids on a fascinating journey through one of Spain's most popular and spectacular historical sites, the Nerja Caves. This series of enormous caves stretching for almost 5 km underground is home to the world's largest stalagmite, a 32 metre high monster! Some parts of the caves also contain prehistoric cave paintings.
Price: Free for children up to 6 years; €9 for kids from 6 to 12 years; €11 for adults
Location: Just outside the town of Nerja
#42: The MIMA Interactive Music Museum
Unlike most museums, here your kids are actually encouraged to touch the works of art and can actually get to play most of the instruments on display. With over 1000 pieces, this is one of the most important private collections featuring instruments from many cultures and dating back thousands of years.
Price: Free for children under 6 years; 5€ for children 6+ and adults
Location: Málaga City Centre
#43: The Automobile Museum
Malaga's Automobile Museum features a private collection of vintage cars said to be worth around €25 million. During you'll visit you'll get the chance to see more than 80 amazing cars including Bugattis, Bentleys, Ferraris, Jaguars and more! The museum also caters for those less keen on motor vehicles… Mums will be delighted to visit the collection of 300 vintage hats from all the top fashion houses including: Chanel, Dior and Lanvin.
Price: From €5
Location: Málaga
Inland adventures
#44: Lobo Park (Wolf Park)
Located in the true heart of Andalucia, Lobo Park is the only wildlife park of its kind and the perfect opportunity to see wolves in their natural habitat. During your visit, you'll be given a guided tour of the park and get the opportunity to learn all about the fascinating life of these amazing creatures.
Price: From €7.50 for kids and €11.50 for adults
Location: El Torcal (Near Antequera)
#45: The Lakes at 'El Chorro'
You've probably seen them when landing at Málaga airport… Three large lakes surrounded by pine forests just west of the quaint village of Alora. You can swim, fish, hire kayaks or just enjoy a quiet picnic on the lake shore! The stunning scenery makes this the perfect spot for a relaxing day out.
Price: Free
Location: Just west of the town of Alora
#46: Juzcar: Home of the Smurfs
Famous for being chosen for the launch of Sony Picture's hit movie, The Smurfs, the town of Juzcar (located about 1 hour from the coast) now welcomes thousands of visitors every year. The whole town is painted 'smurf' blue and you'll come across many of the film's characters either painted on the walls of buildings or walking through the streets ready for taking photos with visiting kids.
Price : Free
Location: Júzcar
#47: Go Skiing in Sierra Nevada
Did you know that one of Spain's largest ski resorts is just a 2 hour drive from the Costa del Sol? During the winter time you can enjoy skiing, snowboarding and other fun winter sports. During the summer, the resort becomes popular for nature walks, hiking trails, mountain biking, rock climbing and other outdoor adventures.
Price: Depends on the season; it's best to visit their website http://sierranevada.es/en/
Location: Sierra Nevada (Granada)
#48: The Donkey Sanctuary
'El Refugio del Burrito' is a Donkey Sanctuary located in Fuente de Piedra, a short 45-minute drive from the Coast. A traditional Spanish Cortijo serves a home to over 70 rescued donkeys. Visitors get to meet the friendly residents and learn all about their life stories from qualified staff who will walk you round the sanctuary.
Price: Free (but donations are more than welcome as their work is entirely funded by donations)
Location: Fuente de Piedra (Málaga)
#49: Caminito del Rey
Described as the world's scariest walkway, the Caminito del Rey has quickly become one of Andalucia's most popular tourist attractions. You'll walk along a purpose built wooden walkway which, in areas, towers 100 metres above the river bed. This is definitely an attraction for thrill seekers and adrenaline junkies! Please not that kids need to be at least 8 years old to walk the Caminito. We put together a detailed guide to the Caminito del Rey here.
Price: Approx. €10
Location: El Chorro (near Ardales)
#50: Walking the Rio Chillar
Taking a walk up the 'Rio Chillar' in Nerja has become a summer classic amongst locals. This fun route takes you on an exciting adventure as you walk through the river and make your way up to the rock pools where the kids can swim in the cristal clear water. There's lots of shade along the way as you walk through the pine trees and through the deep gorges; however, we recommend you put on lots of sun cream and make sure you wear some comfortable shoes which you don't mind getting wet! You can read more about this fun day out in this guide.
Price: Free
Location: Nerja
So there you have it… our monster-long blog post featuring 50 great ideas for you to have fun with your kids the next time you visit the Costa del Sol. Feel free to share the post with friends and family on social media 🙂
Google Map Showing Where All the Activities and Attractions are Located
Don't forget that, if you're looking for somewhere to stay the next time you come to the Costa del Sol, at Sunset Beach Club hotel in Benalmadena, we've got some fantastic activities and entertainment for kids and teenagers as well as comfortable apartment-style accommodation – ideal for families – and an idyllic location facing the sea!
For more information or to check availability please visit www.sunsetbeachclub.com