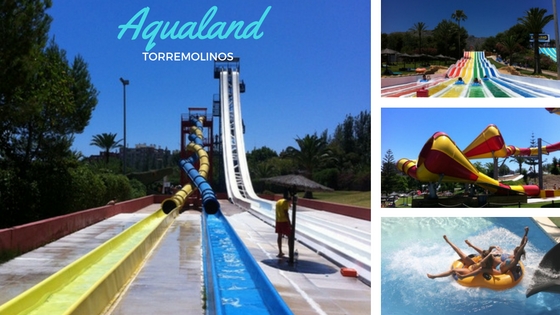 Some of the most popular attractions for tourists visiting the Costa del Sol during the hot summer months are the Water Parks. There are two located within easy driving distance from Sunset Beach Club; however, today we're going to feature the Coast's biggest water park: Aqualand!
Located in Torremolinos, Aqualand provides a truly amazing day out for all the family. Our Community Manager recently visited the park with his family and some friends and the following is his review of a day at Aqualand. Over to you Justin…
I can't believe I've lived on the Costa del Sol all my life and have never actually been to Aqualand (Shame on me!). From the minute I set foot in the park, I realised that I – and especially my kids – had been missing out, big time!
My first impression was a feeling of openness and cleanliness. The place is spotless and the use of green areas and the natural landscape make for a relaxing and inviting atmosphere. With such a popular attraction, one my biggest worries was that it was going to be overcrowded and – dare I say – claustrophobic! Nothing could be further from the truth. All the rides are well spread out with vast areas of garden in between; these areas come equipped with sun umbrellas and are perfect for setting up camp for the day. If you prefer a little more comfort, there are plenty of sun beds located around the main Wave pool and a special picnic area; they can be rented for €4 per day.
We visited on a Saturday in the month of July, in other words, high season and I was worried that it would be overcrowded; however, with the exception of the customary queues on a few of the more popular rides, it was remarkably civilised and, more importantly, highly enjoyable!
Concerned about security and safety? Don't be. There are lifeguards everywhere and all the ones we dealt with were extremely friendly and helpful.
You are allowed to bring your own food and drinks into the park, as long as there are no items made of glass. This is what we did, and by the looks of things, so did most of the families; however, next time I might be tempted to eat at one of the impressive restaurants within the water park. If you're looking for snack food, burger, pizzas etc then you won't be disappointed as there are various outlets spread throughout the park.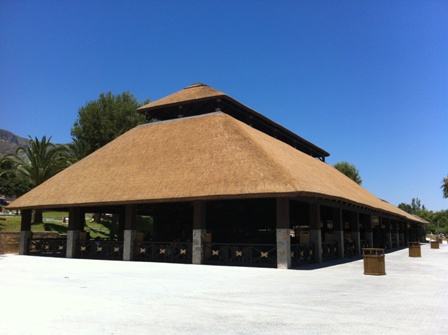 If you prefer something a little more elaborate, the impressive main restaurant located under a massive thatched roof (see photo above) offers both an a la carte option and a buffet style option with pastas, grilled meat and fish, pizzas and lots of wonderful desserts. The place was spotless and I even managed a peek into the kitchens which were equally impressive with all staff immaculately dressed in their stylish uniforms.
A Few Tips
Get there early to avoid queues to get into the park
Rent a safety deposit box to keep your valuables safe. There are security guards patrolling around the park but use of these safety boxes will just give you peace of mind. It's €5 for the day plus a refundable €5 deposit.
This year Aqualand has introduced a new 'Fast Pass' system which allows users to save time by not having to queue up for inflattable rings (donuts) and special mats for some of the more popular rides. Having a Fast Pass also allows you to join special queues which are given preference on many of the rides. It costs €12 per person for the day and although it makes the day a little more expensive, I found it to be worth the money for the time saved. If you don't want to spend the extra money on a Fast Pass, you can still enjoy all the rides, just know that you'll be spending quite a bit more time in queues.
Make sure your kids have plenty of suntan cream as it's easy for them to get burned.
If you're looking to save a few euros, be sure to take a picnic for your lunch, just make sure you're not carrying any glass bottles or items (the guards will check at the entrance).
Now let's get to the good stuff. I'm not going to bore you with lots of text. Instead I've included photos of all the main rides available at Aqualand with a brief description about each one and my personal impressions; this will hopefully give you a good idea of what to expect and help make up your mind if visiting the Coast's largest water park is worth your while 🙂
Speed Racer (New This Year)
The Speed Racer is the newest ride at Aqualand (Opened in July 2016) and, as the name suggests, is an exhilarating and adrenaline pumping experience! The start of the slide involves twists and turns in the dark before shooting out onto the final slalom lanes. You'll be lying on special mats for this ride, equipped with special handles which you'll be grateful for! I have to say it was probably my favourite ride and the fact it has 8 lanes means the queues are pretty quick too!
Anaconda
A fun ride for younger children (although I did see a few adults on it), this ride has two slides with a few twists and turns. My daughters loved it as they were able to go down on their own 🙂
Multipistas
This is a new attraction with 8 lanes which you shoot down using a carpet-like float. Really good fun and another of the rides which young kids (have to be taller than 1.20m) can use on their own. Another great advantage is that the queue went very fast so no long wait times.
Twister
This is one of the most popular rides amongst the adult contingent; fast with lots of speedy turns!
Kamikaze
This is officially the highest water slide in Europe (22 metres) and definitely one for adrenalin junkies… Steep drop and really fast fall!
Boomerang
The name says it all… You're pushed over a steep drop whilst sitting in a rubber ring only to head straight back up the other side of this U-shaped ride. Quite a popular ride with average queues and wait times (quicker if you rent your own rubber rings).
Super Slalom
3 long slides in zig-zag… which one are you going to choose?
Crazy Race
This slide doesn't look like much at first site; however, when you are on it you literally fly down! Great fun 🙂 Also a good option for younger kids.
Rapids
This is a fun ride for all the family. It's like going rafting down a river… not scary at all. Again, if you've rented a rubber ring, you won't have to wait as long in the queue.
Black Hole
More than 100m of twists and turns… in the dark! Highly recommended but expect quite a long wait in line.
Crazy Cones
The newest slide in the park and probably the most popular. Shoot down the slide aboard a rubber ring and you'll be sucked into the crazy cones… you might come out of the cone going backwards! This was probably our favourite ride but could do with being a little longer. 🙂
Kids Fun
There are 3 areas dedicated to younger children: Tropical Lagoon, The Water Mushroom and Children's paradise. All have a great selection of kid friendly slides which will keep the little ones happy for hours.
Surf Beach
A 1440 square metre wave pool. You can also join in the aqua gym classes which take place throughout the day 🙂
So what do you think? Looks like fun doesn't it?
Prices

Opening Times
May, June, September & October: 11.00am to 6.00pm
July & August: 10.00am to 7.00pm
We hope you enjoyed the review of Aqualand in Torremolinos; we definitely recommend it for a fun family day out. Don't forget that you can buy tickets to Aqualand from our leisure desk on the 6th floor of the hotel.
Looking for a hotel to stay nearby? Check out our website at www.sunsetbeachclub.com … we've got fantastic apartment style accommodation, great facilities and a fun entertainment programme for a great family holiday.