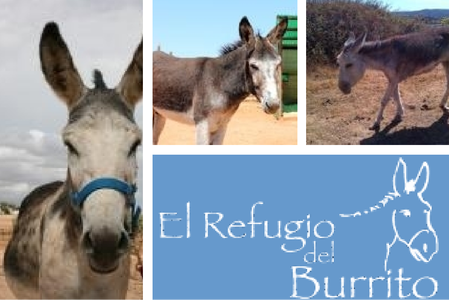 If you have kids and are looking for a fun day out, we recommend you take a trip up to the Donkey Sanctuary (Refugio del Burrito) in Fuente de Piedra (see map below). 
A short 45 minute drive from the Coast, the Donkey Sanctuary is located in a traditional Spanish Cortijo and is home to over 70 rescued donkeys. The traditional buildings and charming olive groves provide a safe haven for donkeys and mules rescued from all over Europe.
Visitors can meet the friendly residents and learn all their stories whilst walking around the grounds of the Sanctuary, discovering how the qualified staff provide expert and individual care to all the animals. You can even adopt a donkey at the visitors' centre!
If you've yet to take trip inland, this is a perfect opportunity to discover the beauty of the Spanish interior. You'll enjoy a fun and interesting visit to the Sanctuary whilst also helping the donkeys. If you have time, we also recommend you stop at the nearby Flamingo Lake, famous for the fabulously coloured flamingos that flock to it. Don't forget your camera!
The Donkey Sanctuary is a registered Spanish non-profit association working hard to improve the conditions of donkeys and mules throughout the whole of Spain. Unfortunately their work is in high demand as there are many donkeys and mules in need of attention due to sickness, neglect, mistreatment or abandonment.
The team at the Sanctuary also works hard to promote donkey welfare practices through specific courses, publications or other appropriate means. One of their most important duties is to actively raise awareness and money through different sources in order to be able to maintain the sanctuary and continue offering free services.
A special Donkey Assisted Riding Therapy programme is also available at the Santuary, the first of its kind in Spain, helping children with special needs. More than 250 children are now benefiting from these special sessions which are provided free of charge.
The Sanctuary also has an onsite shop, small bar serving snacks and refreshments as well as children's play area.
Opening times are as follows:
April to September: 11:00am to 7:00pm
October to March: 11:00am to 6:00pm
How to get there:
The Donkey Sanctuary as approximately 45 minutes drive from Sunset Beach Club. We've embedded a map below to help you get there…