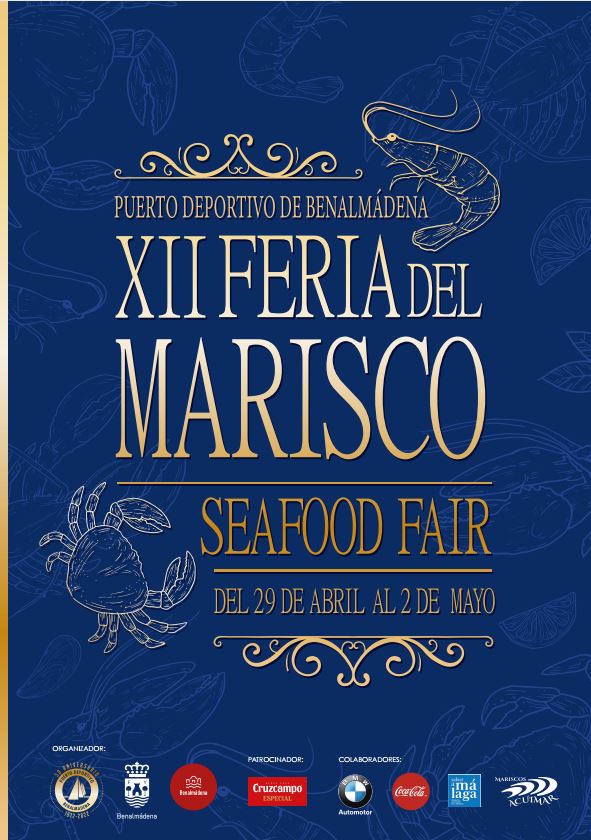 Benalmádena is getting ready to host it's popular 'Feria del Marisco' (Seafood Fair) which is back this bank holiday weekend after being cancelled the last 2 years due to the pandemic. This event will take place from the 29th of April to the 2nd of May next to the boathouse in Benalmádena Marina. All visitors to the Marina will be able to sample some of the most delicious seafood at a bargain price!
Year after year this successful gastronomic event has gone from strength to strength; in 2018 there were more than 25,000 visitors who made their way to the Marina to sample the mouth-watering seafood on offer. They consumed seven tons of seafood and 5000 litres of beer! We expect a similar attendance this year, especially with the excellent weather forecast.
There are 7 restaurants taking part in this edition offering visitors the best products (food and drinks) at unbeatable prices. All the seafood available is substantially discounted so it's a great opportunity to tuck into your favourite dishes without spending too much; in some cases, you'll find dishes up to 40 or 50% cheaper than in a normal 'Chiringuito' (Beach Bar).
These are just some of the dishes you'll be able to sample over the weekend and their prices:
Prawns – €8
Mussels – €4
Clams – €7
Rice with seafood – €5
Drinks – €2
… and lots more!
The restaurants featured this year are the following: Los Mellizos, Saint Tropez Los Mellizos, Casa Rafael (Papa Erig), Almarina, Casa Gaspar, Enfinite, y Mejillonera Benalmadena Acuimar.
The XXII Seafood Fair will be held in a 500-metre square marquee and you'll be able to start sampling the delicious food from 12:00pm each day.
New this year the quality stamp "Sabor de Malaga" (Taste of Malaga) from the council occupying the centre of the marquee. In addition there will be live music to liven up the experience with local bands Kalima, Querencia, Trenzados y Durmiendo Sola.
Here's a quick video of a previous edition of the Seafood fair to give you an idea of what to expect.
Note: If you plan on visiting the Seafood Fair and you're looking for accommodation in Benalmadena, be sure to check out the Sunset Beach Club Hotel Website for a great-value stay in one of the Costa del Sol's most popular hotels.