Sunset Brides Testimonials
Here are just a few of the happy couples that combined their wedding here at Sunset Beach Club with a holiday on the Costa del Sol. Thank you also for choosing Sunset Beach Club, and for taking the time to send us your feedback. More testimonials from weddings in 2023 are coming soon!


Mr & Mrs Small - 05th November 2022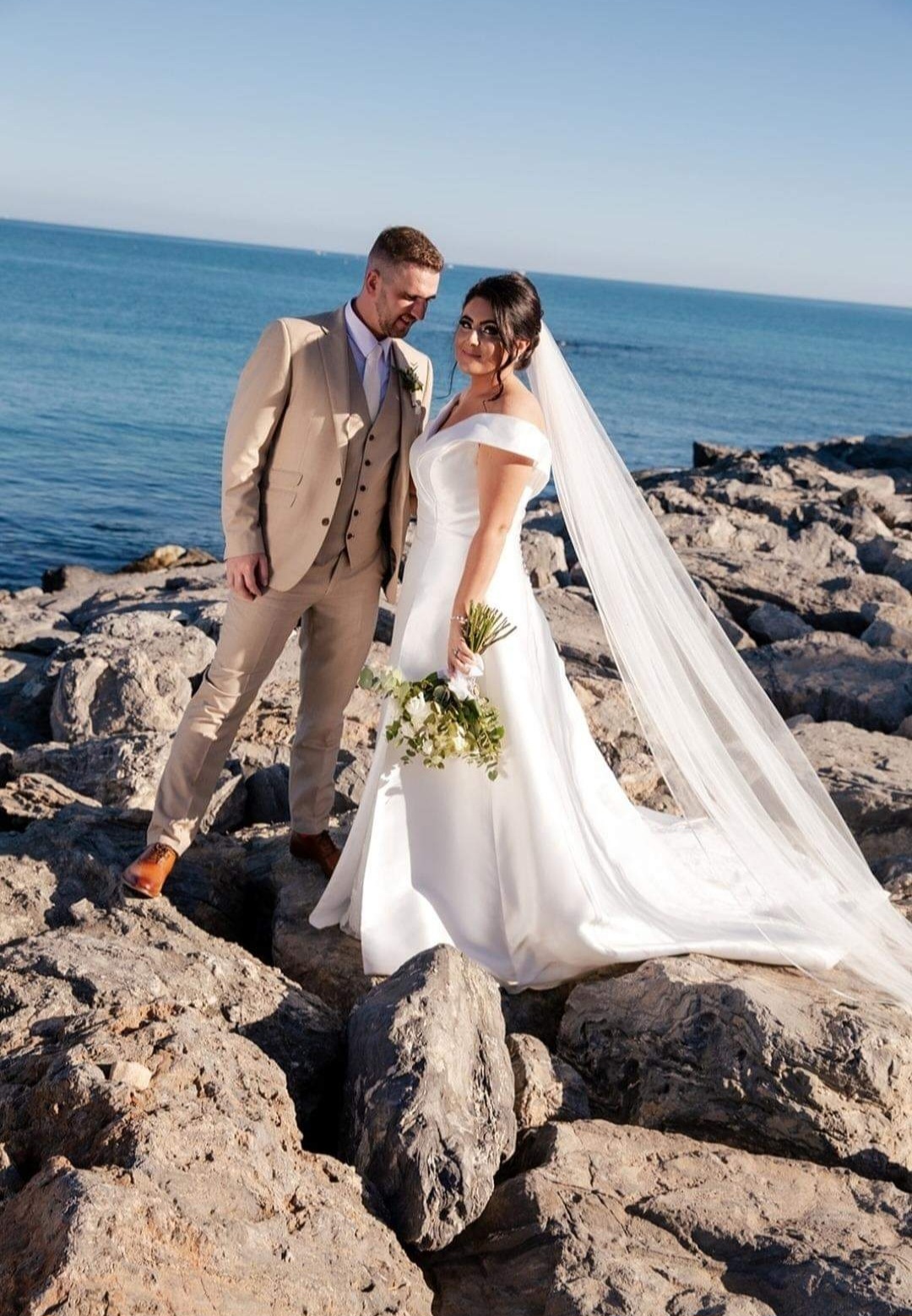 "We had an amazing time in sunsetbeachclub for our wedding and our guests enjoyed every minute of there stay along with us.
I could not fault one thing and have recommended this hotel for a wedding or family holiday to many of our irish friends and family.
Our decision to go abroad to get married was definitely worth it"
Joy & James Green – 8th October 2022
Hi Claire,
I would like to thank you, Gavin and all at Sunset Beach Club for the most amazing wedding day on the 8th October 2022. It was everything we dreamed of and more. From start to finish the day was just perfect. From the morning getting ready with my bridesmaids our hair and makeup girls (Steffi in Salas Hair and Liza Mayne makeup) made our morning and the staff at Sunset Beach were very helpful. The bridal prep room was brilliant we had such a great morning there. Tony Wilcox our celebrant performed the most beautiful ceremony. The drinks and canapés reception on the promenade was amazing and the evening reception meal and night couldn't have gone better. The staff in Sunset Beach were brilliant and went out of their way for us.
Special mention to Gavin our wedding planner who was absolutely fantastic he was running around all day making sure everything ran smoothly and stayed till the late evening even managing our Photo Booth.
The Sala Malaga room was decorated beautifully and the flowers by Shona in Bunches set the scene there and at the ceremony perfectly.
Also thanks to Laura Elen for our ceremony music, Dawn and Michal for photos and video, Ian our DJ and to Demian our sax player who had everyone out on the dance floor all night and was the highlight of our evening!
We stayed in Sunset Beach also for a week as did the majority of our 84 guests and what a week we had we can't wait to return for our first anniversary!
Thanks so much again for everything ❤️
Mr & Mrs Green xx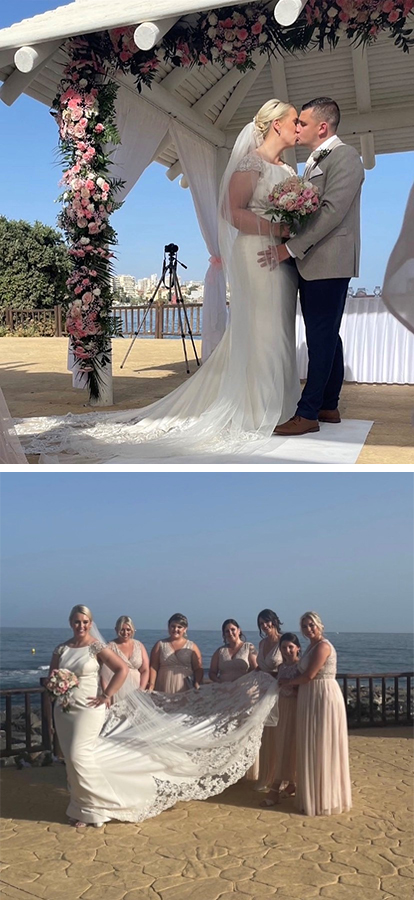 Katrina & Michael Power - 07th October 2022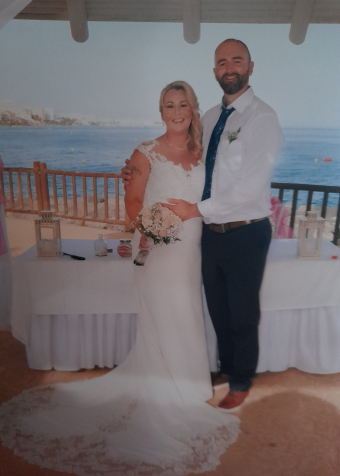 Hi Claire,
Our wedding was 7th October 2022. Where do we start! From start to finish every step along the way was more yhan we could have ever hoped for. Due to Covid19 we had to change our wedding date three times. Our wedding planner Kate Lines was absolutely brilliant, nothing was ever to much and everything went to plan. The hotel itself is just fantastic and all the staff very welcoming and friendly. The ladies we had for hair an make up made us feel very relaxed we had laughs and chats all day. The setting for the service just beautifully located. Ian out celebrant very professional and nice person. Our guest commented on what a lovely service he did. The mojitos and nibbles after the service were perfect as was the Spanish guitar player. The photographer took some fantastic pictures to capture our memories. As for the reception, the room was layed out beautifully the meal was delicious we have guest still commenting on how much they enjoyed the food at our wedding. The traditional Spanish wedding cake and cutting it with a sword just blew people's minds. The D.J. very nice man and had great patience with the kids requesting lots of songs. The photo mirror great touch our guest really enjoyed that also. A massive thank you to absolutely everybody who had a part to play in making our wedding so special and unforgettable.
Thank you, Mr. and Mrs. Power.
Lisa O'Brien & Adam Kinsella – 30th September 2022

" Hey Claire
Just want to thank you guys for the best day ever 🙌
Kate was amazing from start to finish 💗 and the bikers 🤣🤣 couldn't have asked for more , so huge thank you from us xx
All our love
Lisa and adam 😘😘"
Nicola McFALL & Derek BARR - 17th September 2022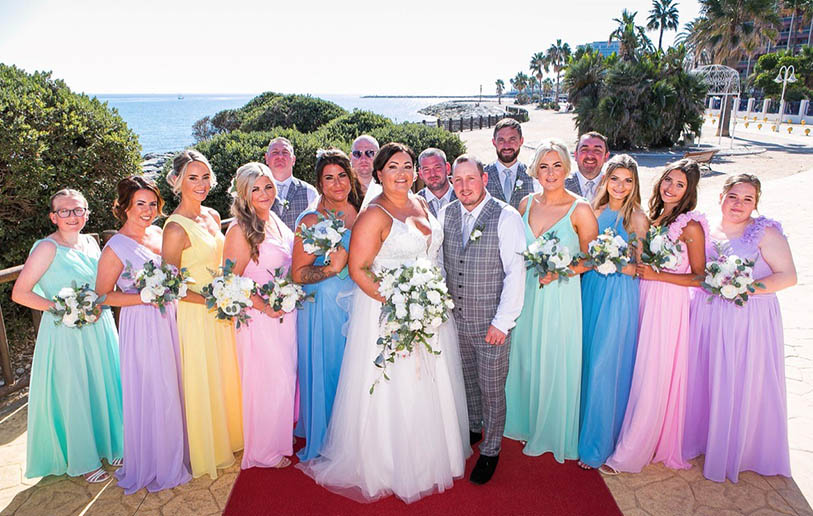 We got married in September 2022. I can honestly say from start to finish my experience was fantastic , from my initial enquiry with claire to ending up with my wedding planner Kate who was my 2nd planner and the best thing that happened to us. My run up to the wedding no matter what it was Kate had me covered, equally to claire who dealt with my guests stay enquires. We had our taster meal during our stay and it was fabulous we were treated amazing . I took so unwell on my wedding day as did my daughter and Kate had my back literally done everything for me looked after me so well. Her team of make up hair girls were genuinely fabulous . Tony ran ceremony which was nothing short than perfect. On to the wedding my guests are still talking about how they were so spoiled the canapés & drinks kept coming , the wedding room was perfect and stunning , once again food was unreal and drinks never stopped . My day went like clock work. I wish I could do it all again and I would pick Sunset Beach Club every single time . Staff are fantastic and everyone needs a Kate on their wedding day.
Lots of love the Barrs
Caitriona & Jason – 14th September 2022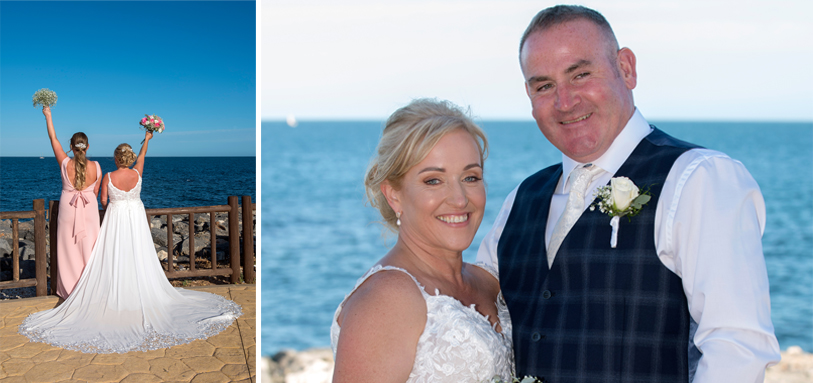 Hi Claire,
I hope this email finds you well. On behalf of myself and my new husband Jason we want to thank you, the management and staff of the hotel for an absolutely fantastic wedding day. From the moment we checked in until we left we had an amazing time. Marie Fagan, our coordinator, was just amazing and we want to thank you for putting her in contact with us. She did an amazing job.
We had 53 guests with us and everyone was so impressed by the service, the cleanliness and the friendliness of the staff. We had our bbq on the 15th the day after our wedding and the service and food was fantastic.
I did meet you briefly when I came for our taster meal and met with Marie. I had the absolute pleasure to meet Allan who was to be our minister and sadly taken from us but he was with us in our hearts on that day.
We are hoping to come out on our first anniversary next year. Until then a massive thank you and keep up the fantastic work. The hotel is a credit to you all.
Love and best wishes from myself and Jason.
Sharon & Darragh – 13th September 2022
"Hi Claire, I would like to thank you and Kate and all of Sunset Beach for the most amazing day, our wedding was everything we wanted and so much more. From the moment we met you and Kate we knew everything would be perfect, everything was so easy i did not have to worry about one thing, you both made it so easy. Every single one of our guests had the most amazing time, as did we❤️ we will be back every year on our anniversary to relive some of those memories.
Kate was so great on the day, my mother has walking difficulties, what I wanted most on the day was for her to walk me down the aisle, Kate made it possible and looked after her for the whole day, thank you Kate❤️I would like to thank you all at Sunset beach for giving Darragh and I the most magical day. Sunset Beach Club will always be a special place for us both.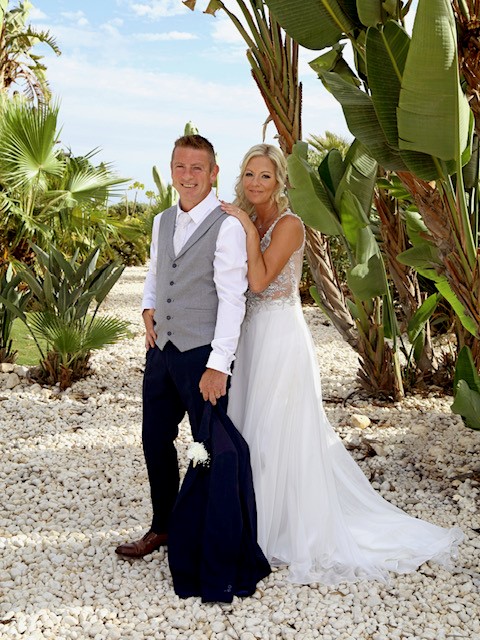 Sophie & Anthony – 24th July 2022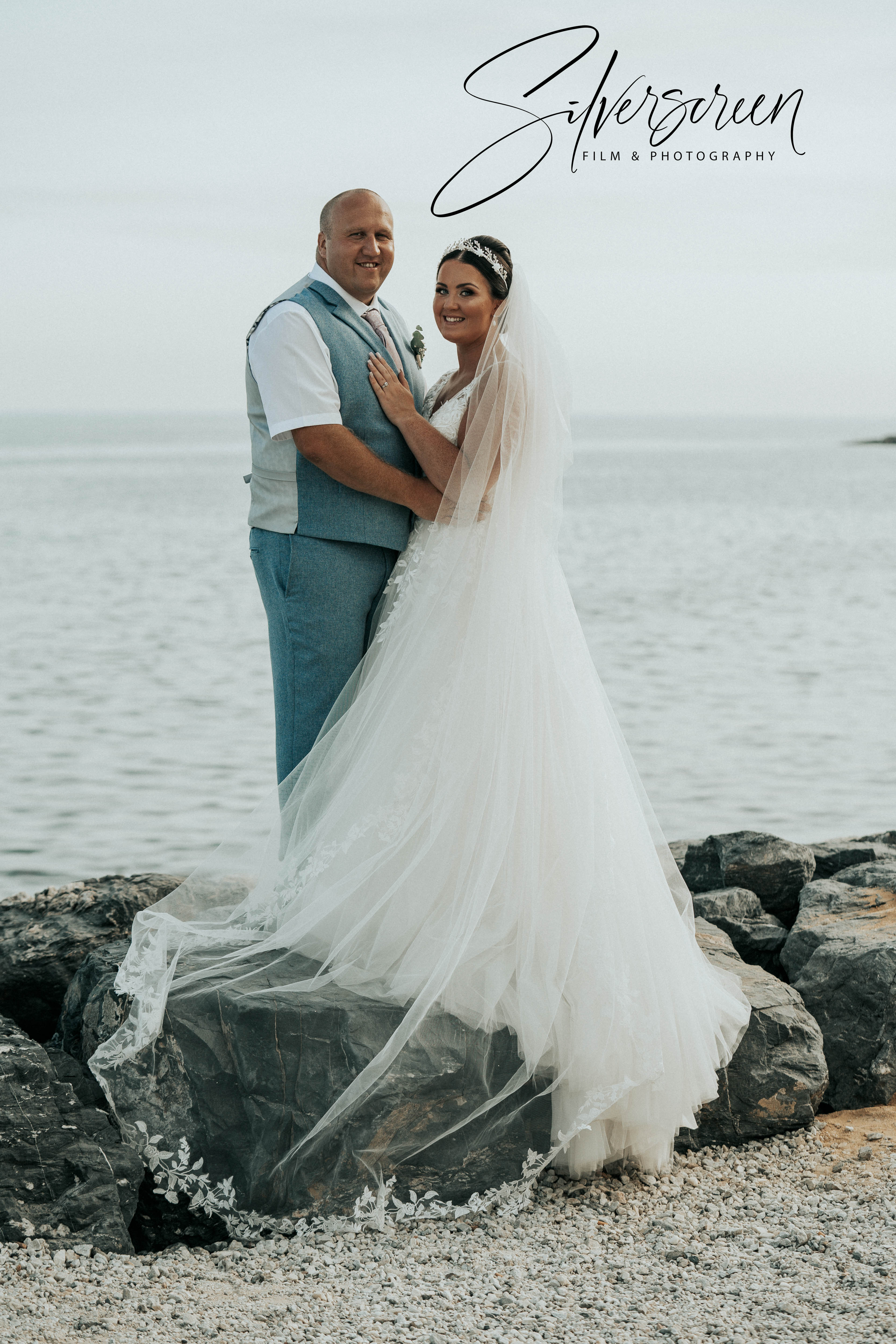 Hi Claire,
We just wanted to email to send you all at Sunset Beach some special thank you messages.
Choosing Sunset Beach Club Hotel to be our wedding venue right from the start in the year 2020 was certainly the best decision myself & Anthony made when we were looking at venues to get married. From the first point of contact with yourself Claire, you provided clear, precise information and you demonstrated just how organised and reliable you were in your role in answering the queries we had. Your prompt responses and answers to questions made us at ease and provided us with the reassurance that we had chosen the best venue to get married at.
Our wedding day was perfect from the beginning to the end. Suppliers who made the day magical and not forgetting an absolutely stunning venue, right next to the beach front with the most gorgeous decor. From Salitos bar for Canapés to the Sala Malaga on the 7th Floor of the hotel for our Evening Wedding Reception, everything was a dream come true. It was beautiful. We would like to thank yourself and all the staff at Sunset Beach for the hard work, effort and commitment in making our day the best day of our lives. We will be forever grateful and it's a day we will never forget. We feel very lucky to have been able to celebrate the biggest day of our lives at Sunset Beach July 2022.
All our guests complimented how amazing they thought our wedding was too.
A special mention to Marie our wedding planner for the work she did in supporting me to prepare our wedding and for the organisation she put in on the day to ensure things run smoothly. Not forgetting our photographer Dougie at Silverscreen, The Rivermen Acoustic Duo, Shona at Bunches Florist, Kurt as our minister, Kelly Jane makeup, Steffi at Salas Hair, The Balloon Man Spain and Dj Raymond. They truly were the best. I can highly recommend every one of those suppliers we chose for our wedding day. Their true professionalism, hard work, reliability and commitment really did show.
We made the most of Sunset Beach. Our wedding and holiday were a 16night stay. This meant we had our wedding and honeymoon with Sunset Beach and it was luxury. We were given the honeymoon suite on the night of our wedding and it was absolutely lovely. The staff in the hotel were so kind, generous and a fabulous wedding breakfast was delivered to our door as an extra special little treat the morning after. Those extra little details definitely are appreciated. Thank you to all the staff in the hotel who made our holiday and honeymoon a great stay, for being generous, kind and thoughtful. Approachable and are there if you need them for anything.
Overall, Claire, from our hearts, thank you. Thank you for everything, for absolutely EVERYTHING.
I've also attached a photograph we received from our photographer Dougie to go with our review.
We can't wait to return to Sunset Beach Club hopefully next year for our 1st year anniversary. We look forward to seeing you all again soon.
Take Care.
Mr & Mrs Forbes.
Anthony & Sophie.
Philip & Dee - 14th July 2022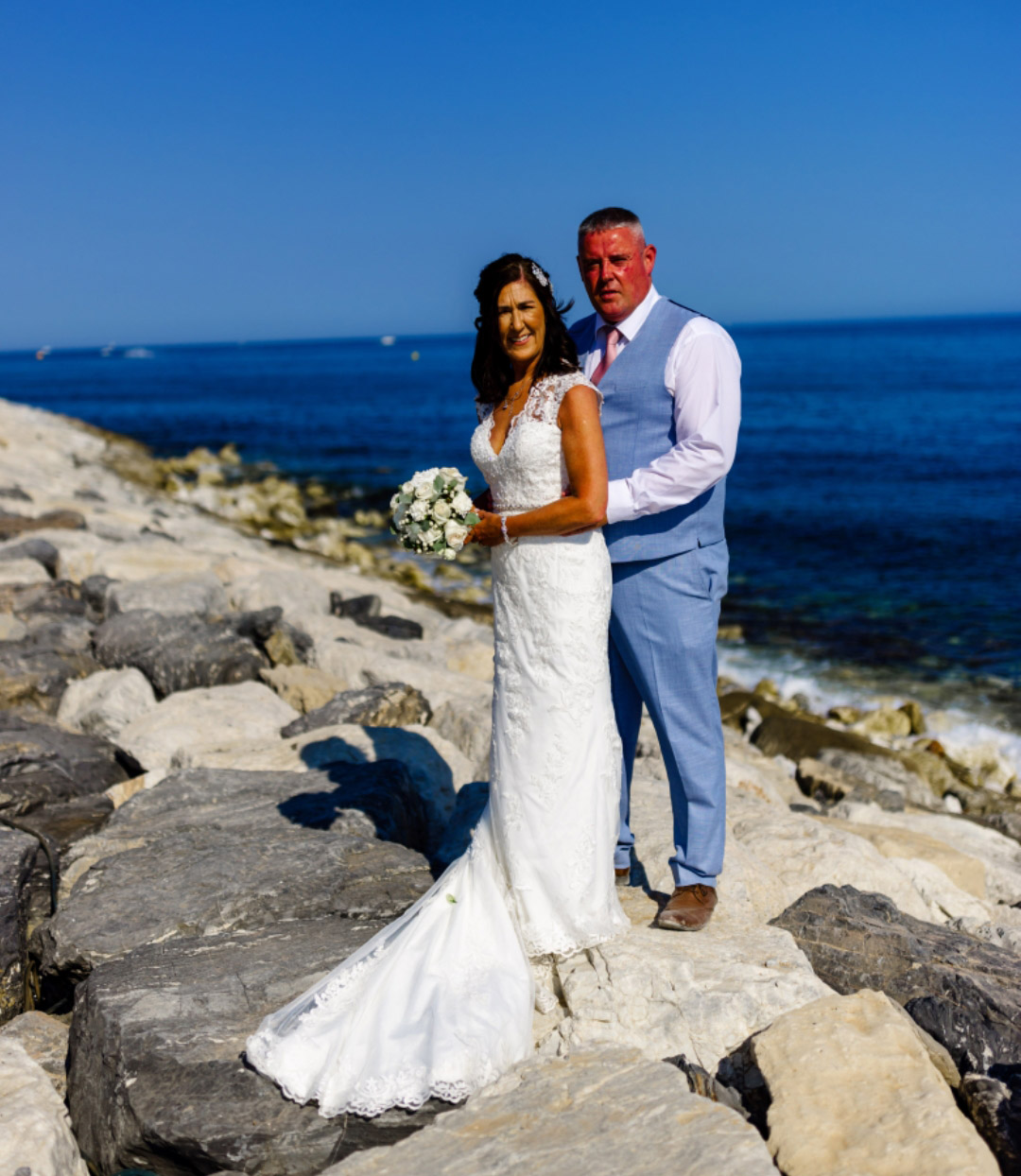 Hi Claire, just want to say a big thank you to you and all the staff at Sunset Beach Club we are so glad we picked here for our wedding. Marie Fagan was our wedding planner and she went above and beyond for us, always on hand to answer all my texts and questions I might have. Paula & Tracy did the hair and make-up which was brilliant as they did so more than their job they helped us so much that day and it really meant a lot. I would also like to give a big thank-you to our Minister Kurt who was very good. I would highly recommend here for couples thinking of getting married abroad.
Once again thank you all so much xx
Philip & Dee
14 july 2022
Jaki & Lee Rush – 25th June 2022
Just want to give my thanks for all your help.
We had a fantastic wedding and a lovely holiday after the terrors of the last 3 yrs it was absolutely perfect defo worth the wait.
Thank you so much for putting me at ease after all my stressing we couldn't of had a better day.
Jaki xxx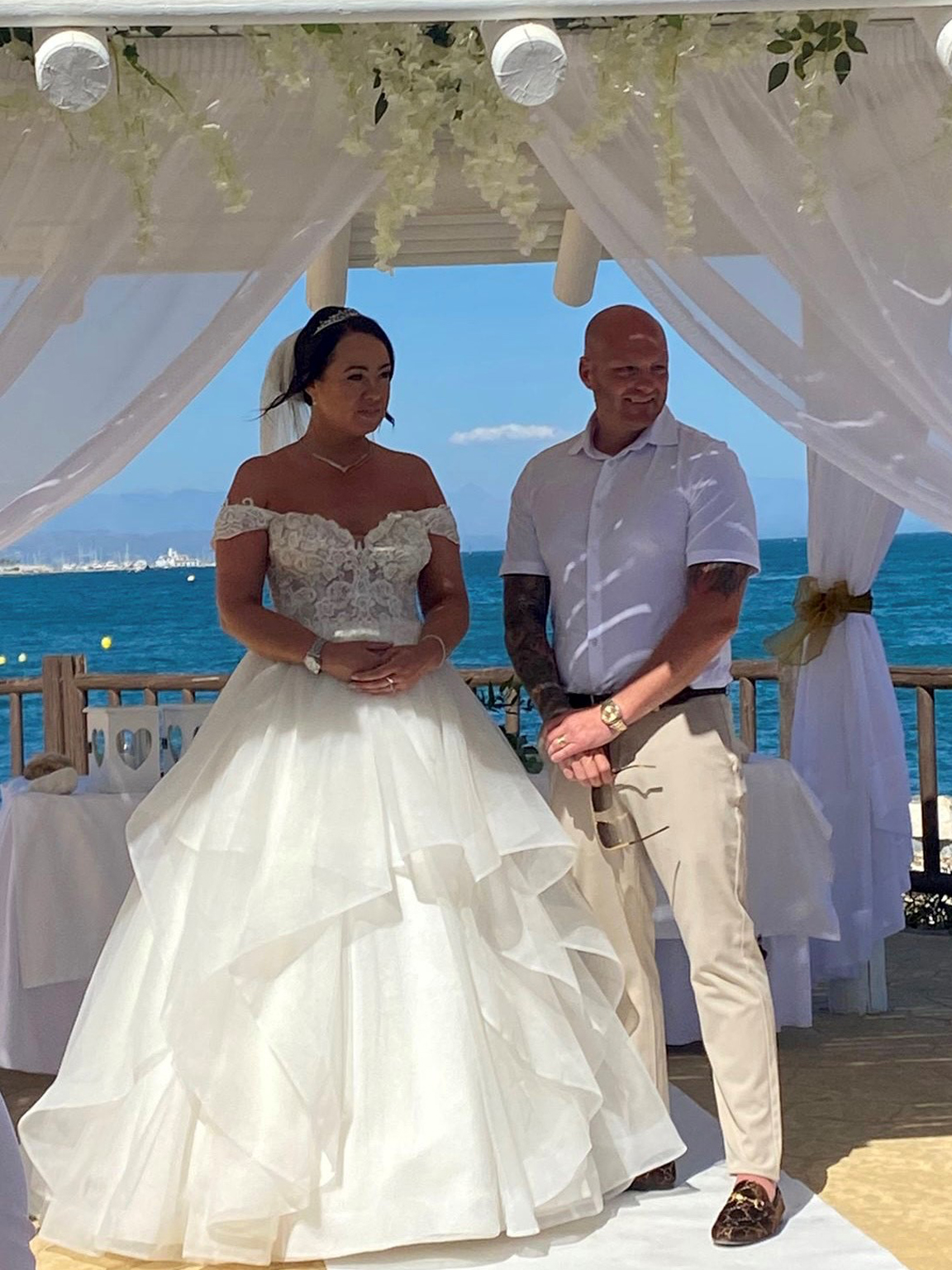 Nicole & Jordan Newman – 27th October 2019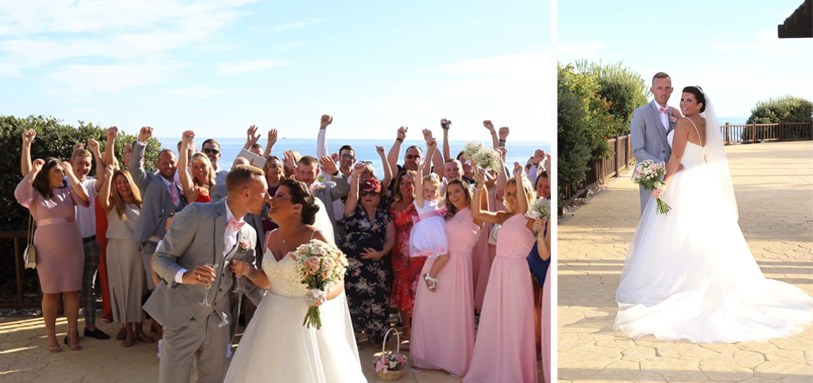 Hi Claire,
Thank you and everyone at Sunset Beach Club for holding the most beautiful wedding for myself and my husband. I don't even know where to start.
The whole day was truly perfect from start to finish.. the decorations, the flowers, food, cake & DJ was absolutely amazing.. couldn't fault a thing.
The lay out of the sea front blessing is just stunning, perfect location.
Everyone had something catered for them!
Wish we could rewind and do it all again. I can't thank you all enough.
Many Thanks
Nicole & Jordan Newman
Sheannon & Edward – 26th August 2019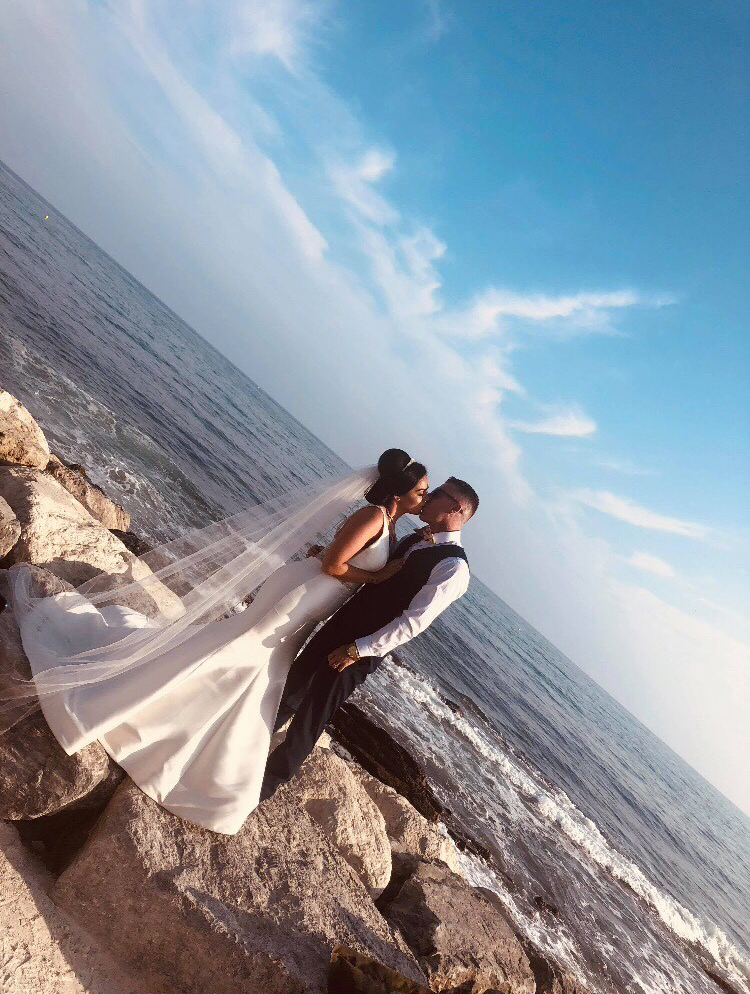 Hi Claire / Kate,
Well what can I say it's been 12 weeks since our wedding and without a doubt we are still the talk of the town and the complaints have been the best! From the minute we arrived at Sunset Beach Club, it was amazing!

We stayed in the Junior Suite with our 2 kids for a total of 12 days and we were so so sorry we didn't book for longer , from start to finish everything was perfect, our apartment, the pools, entertainment just everything was top notch!
Then the day of our wedding came , the prep room is just the best idea ever , loved every minute of our girls morning getting ready! Can't recommend Helena for our makeup enough!

The walk over the bridge to our ceremony, our vows , our wedding night the DJ had us on our feet from the end of our amazing amazing dinner to the end of the night , the way my room was decorated.
Honestly for anyone thinking of booking here , I cannot fault it one little bit! We had the best days over there. It was just brilliant.
I want to say a special thanks to all that was involved in our wedding each and everyone of you made it a day and night to remember.
Sheannon & Edward x
Kealan & Hazel O'Connor – 28th June 2019
Hi Claire / Kate
We are now back in Ireland after our amazing wedding at Sunset Beach Club!! It was amazing from start to finish. Sunset Beach Club is the talk of our little town Edenderry Co.Offaly. Our guests haven't stopped talking about the hotel and the staff being so helpful and amazing! Sunset Beach Club has everything to offer, from excellent food, to fun entertainment, apartment suites , the pool area, it works for everyone -couples, families etc.
My parents brought us to Sunset Beach Club for 20 years running – My parents words – 'The safest hotel for kids'.
We stayed in a Junior suite for 10 days and moved to a Bridal Suite the night of the wedding – it was fantastic – we didn't want to leave. The Bridal Prep Room was fantastic as it meant Kealan could get ready in our apartment and the Bridal Party were able to enjoy the prep room and get ready in comfort.
Kate was our wedding planner I can honestly say she is fantastic – She pulled out all the stops anything we requested she done it for us.
We got married in Mijas Church – Mijas is a beautiful quaint little Spanish village – it is super cute. All of our guests felt they were in the movies like 'Mamma Mia movie' . Our ceremony was at 1pm – we enjoyed our drinks reception and canapes in the little Café next door to the church overlooking the mountain. We had the Qband playing in the church and also playing outside in the Café to entertain our guests. Paco took us to the edge of the mountain and took amazing pictures of the beautiful scenery that the Mijas had to offer. We made our way back down to Sunset Beach Club around 5pm were we had our meal outside Oasis Restaurant – we were thrilled we decided to eat outside the cool breeze and views were fab! After the meal we went up to Sala Malaga for dancing – the Qband started playing at 8.30 pm followed by DJ – the dance floor was hopping all night. We had late night snacks – hot dogs, crisp sandwiches they went down a treat!
Our four tier cake was cut up for guests to taste – it was amazing I ate the top tier to myself LOL!
I have to say the next day was fab – we had a BBQ AT Luna Beach Club with DJ which started at 7pm. Listening to the waves hitting off the rocks and the views were spectacular. Food was delish and they had a separate bar area just making cocktails they went down a treat.
We finished up there at 1am and walked up to Salitos were they served till 3.30am – where we had a sing song Great Craic.
Our Photo Album and DVD were ready for us to take home – We are thrilled with them – they took 800 pictures in total – I will admit it was very hard to choice 94 of them lol.
I will finish by saying – it was the most relaxing stress free magical day – it was a dream come through to marry my best friend in the most wonderful setting of Sunset Beach Club.
Thank you to Sunset Beach Club and especially Kate for making all of our dreams come through.
Regards,


K&H O'Connor xxx
Nicola & Gerard Judge – 23rd June 2019
Hi Claire
We would like to thank the sunset beach for the most amazing wedding, Kate was our wedding planner, she was brilliant, went above and beyond for us, the day started in the prep room where Paula was our hairdresser, while the boys got ready in our bridal suite.

The whole day was just amazing we had our ceremony at the beach front and canapes in Salitos bar, then the meal was in Sala alaga where our guests said the food was outstanding, and catered for specific dietary requirements, We also had a children's entertainer for 3 hours which allowed guests to enjoy their meal without interruption.

We had great craic with Paco our photographer who just whistled and pointed, but very happy with photos and he gave my 2 daughters their own personal little wedding albums.

Some of our guests made it their family holiday and said they would return as it is an amazing hotel for kids and families.
Cant thank the sunset and their staff and wedding team enough for making our day so special and one that our guests are still talking about.
Mr and Mrs Mc Kenna
For more information about our great-value wedding packages please fill out our simple Wedding Enquiry Form or contact our Wedding Coordinator Claire Mitchell by email to weddings@sunsetbeachclub.com.