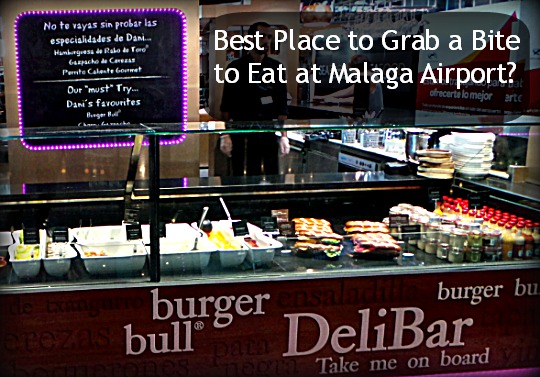 We're not sure if it's the best place but it will certainly provide a welcomed change to the overpriced sandwiches and snacks available at most of Malaga airports food outlets.
Local chef, Dani García (2 Michelin stars) recently launched his latest gastronomic concept, a Deli Bar aiming to seduce traveller's senses with a range of mouth watering dishes with a clear identity: the gastronomic traditions of the south of Spain and the use of local produce. 
Located in a strategic position just as you enter the departures lounge after passing through security, the Deli Bar occupies 150m2 and has room for 60 covers. One of its main characteristics is the display case showing all the delicious food available (similar to a tapas bar). This concept allows passengers to simply choose the product they want and either eat in or, if they are in a hurry, take it away to eat on the plane. The 'take on board' menu will allow passengers to enjoy a delicious meal once they are comfortably seated on their homeward bound plane thanks to special packaging which preserves the food at the adequate temperature.
Chef Dani Garcia has designed the menu himself and has included many of his signature dishes:
Burger Bull (made with ox tail and unbelievably tasty!)
Cherry gazpacho
Beef cannelloni with mushrooms
Gourmet Hot Dog
A new range of gourmet sandwiches
And lots more…
A word of warning… eating at Dani Garcia's new Deli Bar is not cheap, but then again, neither are the tasteless sandwiches you get in many of the other food outlets or on the airline trolleys once on the plane! If you consider the fact that all the products are fresh and that you are eating dishes designed by a 2 star Michelin chef, then its probably pretty good value for money 🙂
Have any of you tried the food at Dani Garcia's Deli Bar? What did you think? Let us know in the comments below.