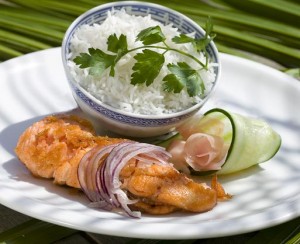 Easter is just around the corner and with it, the start of our busy high season. Just before things get "mad" in the hotel kitchens, our Head Chef and his team have been busy making a few changes to our á la carte menu.
The new additions to the menu offer something for all tastes; there are some more traditional dishes and there are some really innovative creations, perfect for those guests who enjoy trying something new!
Without further-a-do, here's a brief summary of the new dishes you'll be able to try next time you visit Sunset Beach Club:
Starters
We've got 4 new starters on the menu…how does this sound? Strawberry Gazpacho with marinated fresh cheese – a twist of the popular Andalucian cold soup flavoured with strawberries. Or maybe you'd prefer the Deep Fried Fishcakes with herbs, served with mixed leaves and a herb vinaigrette?
Chef's Specials
All the old favourites remain on the menu; however, we have a new special which sounds fantastic… Roasted duck breast with passion fruit, served with a thyme sauce, daily potato dish and seasonal vegetables.
Fish Dishes
We've got two new fish dishes for you to try:
Grilled salmon supreme with sautéed shallots, served with a vermouth sauce
Pan fried hake loins with a red pepper vinaigrette
Chef's Home Made Desserts
Once again,Chef Paul proves that he really is the "master" of desserts with these two fantastic additions:
Strawberry Pavlova (Meringue nest filled with chantilly cream, topped with fresh strawberries)
Chef's floating Island (Poached meringue over a blue curacao sauce & sand biscuit)
Finally, we've made significant changes to the kids menu. The little ones can now enjoy healthier dishes made with fresh local products, for example:
Grandma's Meatballs – Delicious home made beef meatballs in a tomato sauce with rice
Captain's Catch – Crispy homemade fish fingers with pea puree
So there you have it; some of the delicious new dishes available on our new á la carte menu. Have you tried our new dishes? What did you think?