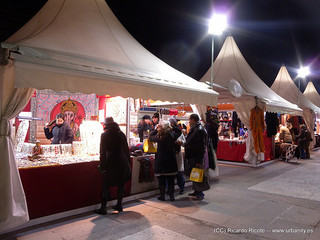 Christmas is fast approaching and you can really start to feel the magic of the festive season; the streets are decorated with colourful lights and local shops and businesses are getting into the Christmas spirit with shop fronts showing off wonderful gifts and products which are sure to attract passers by!
There's nothing quite like a good Christmas Market to get into the festive spirit and we're happy to report that there are quite a few locations for you to choose from this year. These markets are a great opportunity to buy interesting gifts and treats to take home as well as a chance to sample delicious sweets, cakes, and other wonderful local products, so typical at this time of year.
Here are three options for Christmas Markets you might want to visit over the holidays:
#1 Benalmadena
From the 6th December to the 5th January (11am to 8pm) there will be a Christmas Market in the Avenida Antonio Machado. There will also be another market in the main square (Plaza de la Mezquita) in Arroyo de la Miel; however, this one will only be from the 12th to the 16th December; perfect to get some last minute Christmas shopping done!
#2 Fuengirola
This Christmas Market actually started yesterday (5th December) and is only on for 4 days! It is located in the Plaza de la Constitución in the centre of town and although relatively small does have some great little stalls offering interesting gifts and products.
#3 Malaga
Although a little further away, we highly recommend a trip into the centre of Malaga; you'll get to visit a great Christmas Market but will also get to see the wonderful Christmas lights which Malaga is becoming famous for! The market is located in the park in the centre of the city (just behing the port and Muelle 1) and is open every day from 11am to 10pm until the 5th January 2013.  Again, this is a great place to find interesting gifts, arts and crafts and delicious sweet treats to fill up those Christmas stockings 🙂
We hope you get to visit some of these wonderful Christmas Markets and get into the festive spirit…Spanish style!
Do you know of any other Christmas Markets we could visit? Let us know in the comments below.
photo credit: Ricardo Ricote Rodríguez via photopin cc