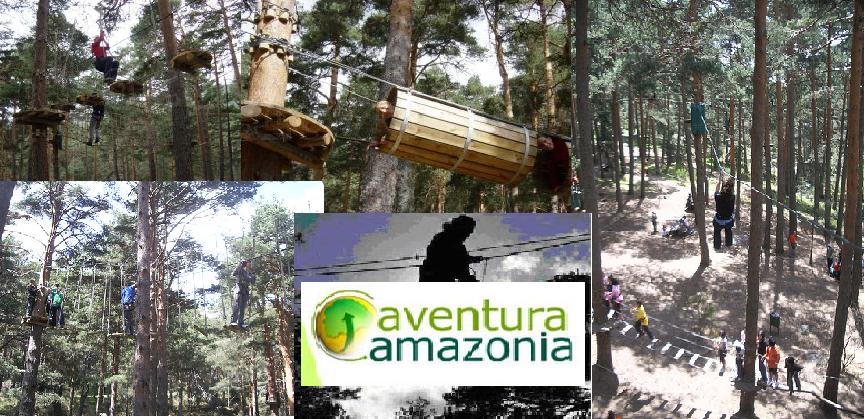 Aventura Amazonia, a new adventure park built amongst the trees, has just opened inMarbella. This new and innovative concept – apart from being great fun – is totally respectful of nature and the natural surroundings where it is located.
Visitors can enjoy 73 different challenges and 20 impressive zip lines including the longest in Andalucía (240 metresof exhilarating descent!). You get to decide which adventure circuit you want to attempt; all games and circuits are grouped according to their difficulty level, very much like ski slopes!
You'll have to tackle up to 50 different types of obstacle including:Burmabridges, tarzan jumps, monkey walks, zip lines and more… The fun lasts for up to 3 hours and includes a compulsory 30 minute initiation course to high rope obstacles so that you can learn how to handle all the safety equipment – the safety aspect is paramount here and the park has the strictest measures to ensure everyone's well-being.
So who's it for?
Basically for anyone over 6 years of age and a minimum height of 1.15m
Anyone who likes an adventure!
Lovers of outdoors activities and some fresh air!
Ideal for stag and hen parties to enjoy a fun day time activity before a night out on the town!
School day trips: The kids will have a whale of a time and will get to experience a bit of nature
Corporate events: Whether it's a company day out or a specific team building event, this is a great choice.
More Information
If you'd like more information, you can visit the Aventura Amazonia website at www.aventura-amazonia.com
For reservations (recommended) please call 952 835 505 and at weekends or public holidays call 625 089 320.
To get to the park, just head towardsMarbellaon the A7 coastal road and take exit 192 at Elviria. The address is Avenida Valeriano Rodriguez 1, Elviria,Marbella. (It's about a 30 minute drive from Sunset Beach Club.)
So, the next time you are on the Costa del Solfor your holidays, you've got a great new park to visit! By the way, if you're looking for a hotel, be sure to check out Sunset Beach Club; we've got some fantastic rates and an enviable beach front location 😉