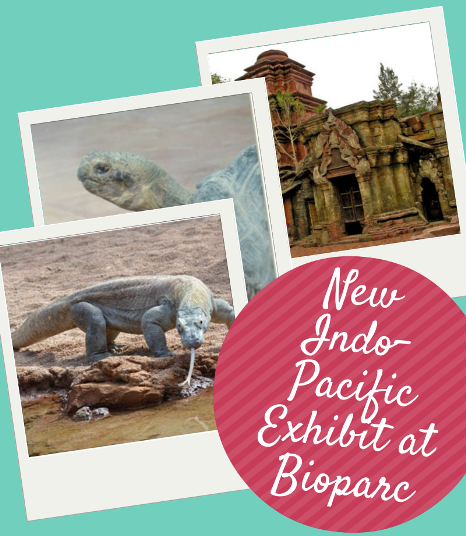 Bioparc Zoo in Fuengirola is one of our favourite family attractions on the Costa del Sol and, as of last Friday, it's going to be even better! Why? Because they have opened the spectacular new habitat designed to emulate the Indo-Pacific region. 
This new exhibit will take visitors on a voyage from Asia to the Americas via the islands of the South Pacific. Featuring species from Java, Borneo, Bali, the Philippines, New Guinea and the Galapagos Islands, perhaps the most impressive new inhabitant of the Park is the Komodo Dragon – the largest one in the world! 
The centre piece of this new habitat is the mysterious temple surrounded by thick jungle and a spectacular 12 metre high tower overlooking the park. This new space will be home to 15 new species (bringing the park's total to 160 different species).
The Komodo Dragon will share his home with 9 different types of reptile, 4 species of bird and two mammals, including: rhinoceros iguanas, a python and giant Galapagos Island Turtles which can weigh up to 350 kg and live more than 150 years!
The Indo-Pacific exhibit becomes the fourth ecosystem within Bioparc; Equatorial Africa, Madagascar and South-East Asia being the other three. Measuring a total of 2170 square metres, it has been built specifically to ensure the animals experience no problems in acclimatizing themselves to their new surroundings. Proof of this is the 190 square metres of underground heating, heating lamps, thermal radiators and heated pool which guarantee the correct temperature needed for the animal's wellbeing.
If you're yet to visit Bioparc Zoo in Fuengirola, we wrote a post here which includes lots of photos to give you a good idea of what to expect. Feedback from our guests has always been very positive and the addition of the new Indo-Pacific exhibit makes a visit to this wonderful park a must on your next holiday to the Costa del Sol.