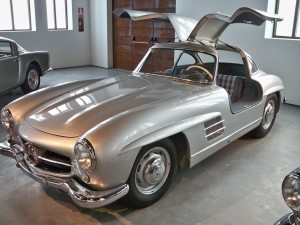 As from the end of last summer, Malaga city has a new museum: The "Museo Automovilístico de Málaga" (Malaga Automobile Museum). Located in the Tabacalera building, the old tobacco factory, this modern installation has 6000 m2 dedicated to one of the most important car collections in Europe. This is more than a regular trip to a museum, it's an experience that will provide fun, entertainment, art and culture to all visitors.
The museum is divided into various themed areas which exhibit a collection of more than 90 cars, all restored to incredibly high standards (the collection actually has 120 models; however, only 90 are available for the public to view). These themed areas transport visitors on a trip through time – 3 centuries – showing and illustrating the evolution of the automotive industry, both aesthetically and mechanically.
The following is a brief summary of the type of vehicles you'll be able to discover in each of the themed areas:
Belle Époque – You'll be able to see a car dating from 1898!
The crazy 1920's
The 30's, Art Decó – The golden years of the automobile….
Popular Cars – A little bit of everything!
Designer Cars – Exotic, eccentric, extravagant and even futuristic models.
Dream Cars – You'll see some of the most popular and striking models of American culture. The Cadillac collection is unbelievable, specially the "El Dorado".
Alternative Energy – How cars have evolved……you'll be able to see the prototype of an ultra-ecological car fuelled by hydrogen!
English Tradition – The very best of British brands: Tradition and quality
The 50's, La Dolce Vita – A great selection of powerful sports cars: Aston Martin, Bugatti…..and more!
Tuning – Creativity and art come together in these spectacular mechanical creations.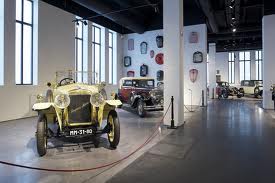 All visitors to the museum will also be able to enjoy and impressive "Engine Gallery". Engines from famous brands such as Chevrolet or Chrysler have been recovered and converted into unique masterpieces. These are works that have been created exclusively  for the Malaga Automobile Museum.
There's no doubt that the museum is a real "Treasure Chest" for car lovers; however, the rest of the family will also enjoy the day out. An outstanding collection of 300 haute couture hats are being exhibited in one of the halls and have proved extremely popular, especially amongst the female contingent! Designs by Chanel, Dior or Lanvin give visitors a flavour for the importance of this fashion accessory in the 20's, 30's, 40's and 50's.
The museum's management haven't forgotten about the little ones either……. At the weekend, they organise special children's workshops – the €6 entrance fee includes access to the museum for the whole day as well as access to the games area.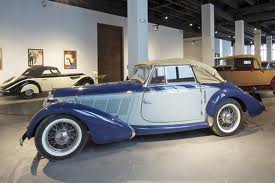 Museum opening times – Tuesday to Sunday from 10am to 7pm
Entrance Fees
€6 for anyone over 6 years
€3 for over 65's and children under 6 years old
Free for children under 3 years old