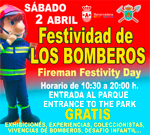 The well known Tivoli World amusement park in Benalmadena will be the venue for the III National Fire Fighter's Festivity to be held tomorrow (Saturday 2nd April 2011). Organizers are hoping to attract more than 10,000 visitors to this unique event which promises to be a fun and educational day out for all the family.
This event has become one of the most important on the national calendar as it also includes the III National Fire Fighter's Challenge of Benalmadena. Attracting fire fighters from all over Spain, the challenge determines the "top" Fire Fighting unit of the country. Should be fun to watch!
The event organisers have made a big effort to provide a wide range of educational activities which will allow visitors the opportunity to learn about the difficult and commendable job that fire fighters undertake on a daily basis.
The doors to Tivoli World will open at 10:30 am tomorrow morning for a fun packed day which will end at 8:00 pm in the evening. Here's a list of some of the activities planned throughout the day:
Live music
Presentations and demonstrations
Thermal vision demonstrations (I've got to try that!)
Children's Fireman fancy dress competition
The National Fire Fighter's Challenge (Fire fighter's from all over Spain taking part)
Rolling simulator – visitors will be able to experience a car rolling (I'll give that one a miss!)
Canine rescue demonstration
Children's Fireman Challenge
Vehicle exhibit
Red Cross catastrophe demonstration
I'm definitely going to go….how about you?