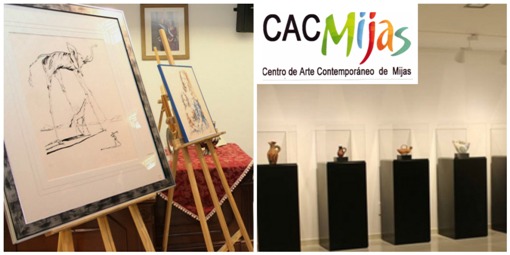 The town of Mijas is probably one of the most popular tourist attractions on the Costa del Sol with thousands of weekly visitors. As from last Saturday, there's another reason to add this charming town to your list of places to visit: The opening of the new Contemporary Art Centre (CACMijas: Centro de Arte Contemporáneo).
This new art gallery opened to the public with an impressive exhibition made up of 86 works from some of Spain's greatest artists including, Picasso, Dalí and Miró. This wonderful collection actually goes by the name of "Picasso, amigos y contemporaneous" (Picasso, friends and contemporaries) and is made up of ceramics (43 pieces from Picasso himself and one of the most important collections in the world), lithographs and oil paintings. 
The new art centre has three spaces, two with permanent collections and one which will be used for temporary exhibitions and works of art – the plan is to have 3 temporary exhibitions a year.
Those of you planning a visit to Mijas should definitely take the time to explore this fascinating new art centre which presently contains more than 550 works of art.
The CAC Mijas is located in Calle Málaga and is open Monday to Sunday from 10am to 6pm. Until the end of the year, Mijas residents are allowed to enter for free with pensioners, unemployed people and under 18's having the privilege of free entrance from January too.
Entrance prices are just €3 for adults and can be purchased at the Art Centre. Groups of more than nine people pay €2 each.