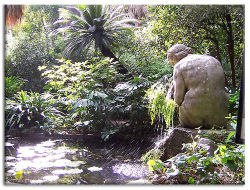 If you're a nature lover and enjoy a little peace and tranquillity (at least once in a while) during your holidays, we highly recommend you visit the 'La Concepcion' Botanical Gardens in Malaga.
Located just north of the city centre, these vast and spectacular gardens are now part of the 'Ciudad de Malaga' (Malaga City) Municipal Botanical Trust.
A walk through its colourful gardens will allow you to enjoy an exquisite collection of plants and flora from all over the world. 
A Little Background and History 
The Botanical Gardens were created more than 150 years ago by the Marquis of Loring and his wife who – whilst travelling around the world – brought back exotic plants and flowers from places such as China, Australia, the Pacific and South America.
The wealthy Echevarría-Echevarrieta later purchased the property and extended the gardens adding large collections of palms and other trees.
In 1943 'La Concepcion' was officially declared a historic and artistic garden and finally, in 1990, was bought by the Malaga City Council. After extensive renovations and modifications, the gardens were officially opened to the public on the 21st June 1994.
The 'La Concepcion' Botanical Gardens are enormous –49 hectares to be exact – but don't worry, there are five recommended routes (some accessible in wheelchair) all well sign posted which will help you discover the most fascinating corners of the gardens; it all depends on how much time you have!
These are the 5 recommended routes:
The Jewels of La Concepción– If you've never been to La Concepcion, this is probably the best route for you as it takes in the most important areas of the historic gardens. It'll take you approximately 1.5 hours to complete this route.
Themed Gardens– On this route you'll see a diverse selection of plant life such as bamboo, palms and aquatic plants; You'll need 2 hours to get around.
Around the World (in 80 trees) – You'll get to see trees originating from 5 different continents.
TheViewpoint Route– In just under an hour you'll enjoy slightly 'different' and elevated views of the Botanical Gardens.
The Forest Route– An hour's walk will take you through areas which are rich in local flora and offer spectacular views over the 'Montes de Málaga' Natural Park.
The 'La Concepcion' Botanical Gardens also have lakes, ponds, streams and cascades surrounded by an impressive selection of flora and vegetation such as black bamboo; did you know this plant grows at a rate of 1cm per day?
Around the gardens you'll also find a large number of strategically positioned benches from which to enjoy the magic and tranquillity of this unique setting.
Opening Times and Prices 
Tuesday to Sunday:   9:30am to 8:30pm from 1st April to 30th September
9:30am to 5:30pm from 1st October to 31st March
Adults – €5.20
Children (6 to 16 years) and pensioners – €3.10
There are also discounts available for groups of more than 20 people as well as the possibility of guided tours (fee applies). If you'd like more information, please visit the La Concepcion Botanical Gardens website or just ask at the Sunset Beach Club leisure desk.
Have you been to the 'La Concepcion' Botanical Gardens in Malaga? What did you think? Let us know in the comments below.