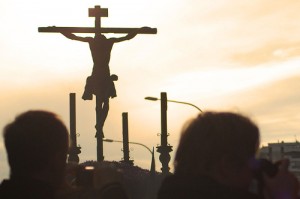 This weekend sees the official start of Semana Santa (Holy Week); Towns and cities all over the country – especially in Andalucia – celebrate this Easter week with a profound devotion and passion. If you've never attended one of the amazing processions, I highly recommend you make an effort to experience it – at least once – you won't regret it!
What Exactly Happens in Holy Week?
Good question. We won't go into the intricate details and history of these religious festivities here; what I will tell you is that it's a time where Christians show extreme devotion to their faith.
The highlight of Semana Santa is the processions. In Andalucia, most towns and cities will have a series of processions which take place throughout the week; starting on Palm Sunday and continuing until Resurrection Sunday.
If you really want to experience the traditional Semana Santa, we recommend you visit Málaga: thousands of locals and tourists line the streets to watch the different "cofradías" (brotherhoods) parade their impressive "Tronos" (Thrones) through the city. Some of these impressive structures weigh up to 5000 kilos and need 200+ men to carry them! Routes can last up to eight hours with each man carrying an equivalent of 25 or 30 kilos on their shoulders during this time: that's devotion!
Holy week in Malaga is unique: In cities such as Seville, meditation and silence prevail during processions; however, in Málaga, you'll live a completely different experience as people on the streets cheer, sing and applaud as the beautiful "Tronos" pass by.
It's difficult to describe the experience; you really have to live it. Imagine all five senses at work: the amazing colours of the costumes and the "Tronos" (thrones), the smell of incense and flowers fill the air, the sound of music, singing and applauding…truly memorable.
Must-see Processions in Málaga
There are many "Cofradías" (brotherhoods) and each has a procession on a set day and at a specific time. I won't list them all here – you can see the full Easter Parade programme here – but these are some of the most important ones that you might want to consider:
Palm Sunday (17th April) – Favores – leaves from Calle Esperias at 11.25am. This is a popular procession as Antonio Banderas is a member of the brotherhood. Every year he travels to his home city to take part in the processions; I think that this year he is one of the Nazarenos (with the cone shaped hats) so you might have trouble spotting him!
Monday (18th April) – Cautivo – leaves at 7:45pm from Calle Trinidad and known as the "Señor de Málaga".
Maundy Thursday (April21st) – The arrival of "Mena"(also known as Cristo de la Buena Muerte) in Málaga Port is breathtaking. At around 11am, she arrives by boat and is escorted by the Spanish Foreigh Legion who lift her onto her throne. The troops sing and perform some incredible drills with their rifles which make for great photo and video footage!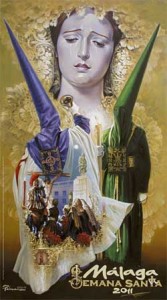 Malaga town hall has placed more than 25,000 seats along the official routes so that people can watch the processions; however, you'll want to be sure to get there early to grab a place.
You need to bear in mind that every brotherhood has its own specific route. That being said, they all pass by an 800 metre stretch of road between the Alameda Principal and Calle Granada; this is probably the best location to see all the processions.
Anyone staying at Sunset Beach Club and planning to visit the Malaga processions can travel to the Coast's capital by bus or by train; please ask Annemie or Susanna at our Leisure desk for timetables and other information related to the processions.
If you don't feel like travelling into Málaga, you can watch one of the processions in Arroyo de la Miel or Benalmadena Town; not quite as spectacular as those in Málaga; however, a good introduction to the magic of Holy Week!
Are you planning on watching the processions? Let us know what you think of the experience.
Photo Credit: bachmont