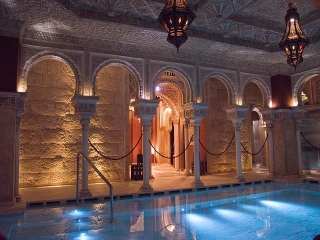 Stressed out and in need of some R&R? Staying here at Sunset should help; however, if you need a little boost, I highly recommend a quick visit to the "Agua de Oriente" Arab baths in Benalmádena.
The Arab Baths are located in the centre of Benalmadena (just next to the Marina) and a mere 20 minute walk from Sunset Beach Club. Inspired by the Nazari architecture of XI century Granada, this impressive "Oasis" of relaxation is a real treat to the senses. I think the following phrase on the "Agua de Oriente" website describes the experience perfectly:
"A journey into the past, to discover a world of sensasions"
The traditional word for this type of Arab Bath is "Hammam" and in the next few paragraphs, I'll provide you with a brief explanation of what you can expect on your visit – just in case you've never been before.
The "Hammam" Experience
As you can see by the photos, lighting and architecture are key components of the Hammam experience. When you enter the baths you are, literally, transported into another time period.
Many of your five senses are at work as you smell the delicate fragrances emitted by scented candles and oils; hear the sound of water cascading from the fountains; see the glow of the candles and the shadows they cast on the pillars and stone walls and above all, feel the sheets of water against your shoulders as they cascade from the marble and stone walls.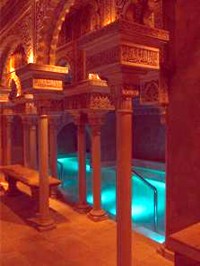 The "Ritual"
The Hammam is made up of different baths (more like small pools) each at different temperatures. You will make your way through the different pools starting in the Tepidarium where the water is at a very acceptable 33ºC. From here you slither into the Caldarium for a "warmer" experience in 38ºC waters. After no more than 10 minutes you make your way back to the Tepidarium. The best is reserved for last;  a real treat awaits you in the Frigidarium – the name says it all! – We're talking 17ºC…..the instructions say no more than 10 minutes in this pool…as if… more like 10 seconds!
As well as the baths, you can also treat yourself to a relaxing massage, a Turkish Sauna or a well earned rest in the relaxation room where you can taste (yes, another of the senses) a selection of exotic teas.
It's really difficult to explain the experience in words; your best option is to go and try it for yourself! It makes a great gift for Valentine's Day, Birthdays or that special occasion.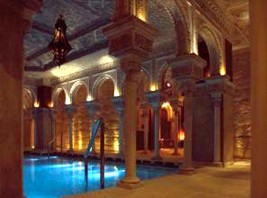 For more information about the Arab Baths, please ask at our Leisure Desk or visit the website at www.aguadeoriente.com.
Hope you enjoy the experience!