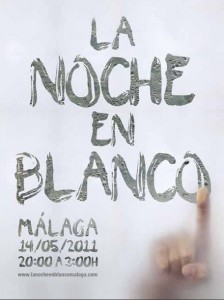 Next Saturday the 14th May, the city of Malaga will organise the fourth edition of "La Noche en Blanco" (literally translated as The White Night), a unique cultural event in which citizens and visitors can enjoy art exhibitions, stage shows, live music and audiovisuals in more than 100 points around the city. The great news is that all these events will have FREE admission!
This year, social networks (Facebook, Twitter and Youtube) take center stage as many of the projects being developed for "La Noche en Blanco" this year are the result of the numerous ideas and proposals made by the the citizens of Málaga through these Social Media channels. In addition, following the event via Twitter and Facebook will allow you to know which places have the longest queues – so that they can be avoided – and which ones have less affluence.
This fourth edition of The White Night promises to be the most spectacular to date.This year there will be 130 free activities – compared to 111 last year – which will take place in 100 locations. More than 60 institutions and organizations (public and private) supported the event last year, attracting 153.546 people; this year the authorities expect to surpass this figure.
Here are some of the highlights and attractions to look our for during the "Noche en Blanco 2011":
• Thyssen Museum: from 8:00 pm and until 3:00 am, museum admission is free.
• Picasso Museum: Free admission from 8:00 pm to 1:00 am.
• Contemporary Art Center: Acoustic Concert at 10:00 pm and several contemporary dance performance.
• The Spanish Film Festival of Malaga will install a large screen to project video creations presented in the last year's competition.
This is just a small sample of what citizens and tourists who visit Malaga on Saturday night can expect.
You can see the full program and download a map on the official website here or check out the official website at www.lanocheenblancomalaga.com. (Please note that it is only available in Spanish)
If you're planning on visiting Málaga for this weekends event, we've got availability! Stay in one of our 1 bed apartments from 63€ per night…. Book online at www.sunsetbeachclub.com