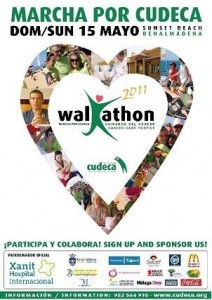 Mark the date in your calendars: Sunday 15th May, 2011. Once again, Sunset Beach Club will be heavily involved in the sponsorship and organisation of the Cudeca Walkathon, the annual fundraising event which aims to raise funds for the Cancer Care Hospice in Benalmádena.
So what exactly happens at the Walkathon? It's basically a sponsored walk; you need to get your friends and family to sponsor you for every kilometre you walk (or run!) and then head down to Sunset Beach Club on Sunday the 15th May – sign up starts at 9:30 am – and complete as many laps of the circuits as you can!
There will be 3 different routes or circuits to choose from: 10km for the super fit and sporty; 5km for those who enjoy a good brisk walk; and the 2km walk, specially adapted for children and for disabled participants in wheelchairs.
There is a registration fee for all participants: 10€ for adults if you pre-pay (12€ on the day) and 6€ for children. Obviously, organisers are keen to encourage participants to obtain sponsorship for every kilometre walked; there will be fantastic prizes for the participants who raise the most sponsorship funds!
There will also be a special price for the group with the largest number of participants in the Walkathon; this could be groups of friends, associations, companies, etc.
It's going to be a fun day out for all the family with a whole host of activities planned: Live music, large paella, BBQ, activities for kids (loads of games and even a live performance from the one-and-only, Ronald McDonald) and lots of other surprises!
You can pre-pay your registration by going into the cudeca website www.cudeca.org or you can pay at any Cajasol branch (Cudeca account number 2098 0260 02 0372009241)
We look forward to seeing you all there! Please don't forget that all funds raised will be used to add Life to Days to all Cudeca patients and to give special support to their families.