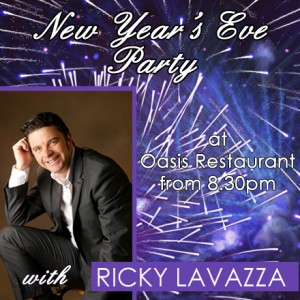 Just a few days 'til the end of the year and at Sunset Beach Club we're planning on seeing off 2012 in style!
All our guests and anyone living on the Coast are more than welcome to come and join us for a fantastic evening of delicious food, live music, dancing and a drink or two!
We'll be starting off the evening with a cocktail reception at 8:30pm followed by a 5 course gala dinner and live music. This year we've got a special treat as we've got one of the Coast's top entertainers to provide the entertainment for the evening: Ricky Lavazza! Those of you who have stayed with us before will know Ricky well as he is a featured artist here at Sunset Beach Club all year round. 
The music and dancing will go on until 2am at which point the party will move over to our Moonlight Theatre where DJ Alvaro will be playing great tunes 'til early hours of the morning.
Here's a quick peek at the gala dinner menu:
Aperitifs and canapés
***
Royal consommé with Iberian ham and ceps
***
Seabass filet with a creamy vermouth sauce and winter vegetables
***
Duo of sorbets with Breton biscuit
***
Grilled fillet of beef with red wine sauce, potato gratin and zucchini timbale with cheese and caramelized onions.
***
Warm chocolate sponge with crème anglaise and raspberries
***
Red and white wine, cava, liqueurs, coffee and petit fours 
The price for the Gala Dinner and all entertainment is €90 per person (€20 for kids between the ages of 3 and 12 years). If you are interested, you can book your place at the Sunset Beach Club reception desk or by calling 952 579 400.
Whatever your plans for New Year's Eve…we wish you all a Happy and Prosperous 2013!