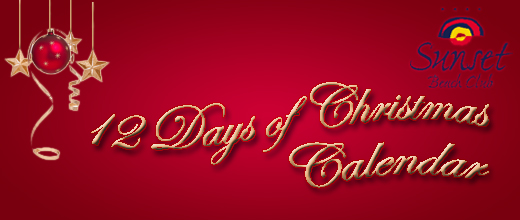 We've just put the finishing touches to our fantastic "12 Days of Christmas" advent calendar on our Facebook Page !
During the 12 days leading up to the 31st December 2011, we will be giving away lots of great prizes to all guests who are fans of our Facebook page; so if you're not a fan, head on over to www.facebook.com/sunsetbeachclub and click the "Like" button for a chance to win some fantastic gifts!
Each day, a new surprise giveaway will be revealed; all you have to do is click on the box and see what it is. Some require entering name and email for a prize draw and others will give you the chance to win an immediate prize!
So what are we giving away? I don't want to reveal too much, that would spoil the surprise! I will tell you that there is a 3 night winter break at Sunset Beach Club up for grabs as well as meal vouchers in our restaurants and 2 free tickets to our New Years Eve Gala Dinner 🙂
All you have to do is check our Facebook page on a daily basis (from the 20th December to the 31st December) click on the "12 Days of Christmas" Tab on the left menu and click on the appropriate box for that day (only boxes in red are clickable; if you click on one of the grey boxes, you'll get a message saying it hasn't been activated yet and that you'll have to try again another day).
Draws for all the prizes (except the time sensitive ones) will take place the 3rd January 2012.