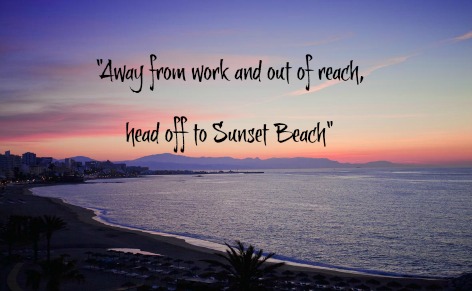 A couple of weeks ago we ran a competition on our Facebook page which proved very popular. Fans were asked to come up with a Tag Line for Sunset Beach Club and I'm pleased to say that we got some very good entries; so good, in fact, that we've decided to feature them all here is this blog post as a tribute to all those who took the time to enter.
The competition required fans to vote for their favourite entries and the top 3 would go into a final selection with the winner being chosen by our General Manager.
We'll start off with the winner and two runners up and then list the rest of the entries who also deserve a mention.
The Winner
"Away from work and out of reach, head off  to Sunset Beach"
Runners Up
"Hvad er danskers paradis? Sunset Beach Club givetvis!" roughly translated… "What is a Dane's paradise? Sunset Beach Club of course!"
"Will we re-visit after our 1st visit?"
The Rest of the Entries (In no particular order)
"One visit is never enough"
The sun never sets at Sunset Beach Club"
Sublimely special and serendipitous Sunset Beach Club"
"The Sunset Beach is within everyone's reach"
"Sunset Beach Club, the place to be for a totally relaxing get away"
"Sunset Beach: So special, so sunny, so relaxing…"
"Reaching your horizon"
"We've got it all"
"Sunset Beach is always within your reach"
"Sunset Beach, where sun, sand, sea and songs are always within your reach"
"Summer, sun and relaxing in Sunset Beach Club will be the best time for us this year"
"Sunny, shining, Sunset Beach Club an amazing place to be, you'll not be disappointed just wait and see!"
"Sunset Beach Club…Paradise!"
"Cocktails, pool, sand, sea, gorgeous food…Sunset Beach Club is where it's all at"
"Sunset Beach Club…an amazing holiday!"
"Sun, sea and sand, Sunset Beach Club is the place to be"
"Lights up everybody's life!"
Thanks to all who took part and congratulations to Lee on winning the €50 meal voucher!
Which is your favourite? Have you got a Tag Line you'd like to share with us? Feel free to add it in the comments below 🙂