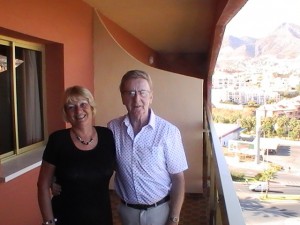 Last week, I spent a pleasant afternoon chatting to Michael and Breda Quinn, loyal guests who have been coming to Sunset Beach Club for over 20 years! Our hotel becomes their home at least 3 times a year (March, June & October) when they grab the Aer Lingus flight from Dublin to Málaga and head to Sunset to enjoy a relaxing sunny break at their favourite hotel.
I like to meet guests and hear about their experiences at our hotel; it's these conversations that provide extremely valuable feedback that helps us in our efforts to continually improve our customer experience.
After spending a few minutes enjoying the jaw-dropping views from their apartment (see photo below) I asked Michael and Breda a simple question:
"What do you like most about Sunset Beach Club?"
In summarised bullet form, here's what they answered (not necessarily in order of importance):
 The location of the hotel is second to none – practically over-looking the sea, with beaches on either side, it's absolutely perfect!
The apartments are a nice size and are always spotless.
The staff are so friendly and helpful, they always go out of their way to help, nothing is too much. We always feel at home when we come.
The security; we like to feel safe when we travel abroad. The security within the hotel is fantastic and the surrounding areas also make us feel at ease.
We don't have to leave the hotel if we don't want to; the excellent facilities provide us with all we need such as a supermarket, restaurants and entertainment.
I'd like to thank Michael and Breda for taking the time to talk to me and look forward to welcoming them back to Sunset Beach Club again in March!
What do you like most about Sunset Beach Club? Feel free to leave your answers in the comments below 🙂