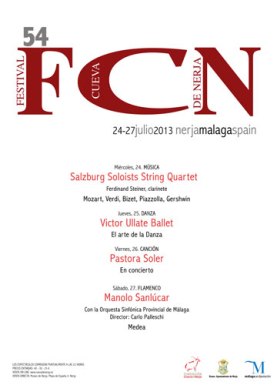 Next week sees the start of the 54th edition of the Nerja Caves Music and Dance Festival. As we've come to expect, this year's line up of artists is just as impressive as previous editions and includes guitar 'maestro' Manolo Sanlúcar.
The festival will take place from the 24th to the 27th July; it has been shortened to just 4 days in order to reduce its impact on the conservation and maintenance of these famous caves.
Below we've included the full programme for the Festival and all the artists and musicians taking part this year: 
Wednesday 24th July
Classical concert by the Salzburg Soloists String Quartet accompanied on stage by one the world's most prestigious clarinetists, Ferdinand Steiner.
Thursday 25th July
A night of ballet with the Victor Ullate Ballet Company.
Friday 26th July
Pastora Soler, Spain's 2012 Eurovision representative will perform all her greatest hits.
Saturday 27th July
Guitar 'maestro' Manolo Sanlúcar accompanied by the Malaga Symphonic Orchestra.
Ticket prices for each performance range between €25 and €40 (same as last year) and can be purchased online at the Nerja Caves official Website.