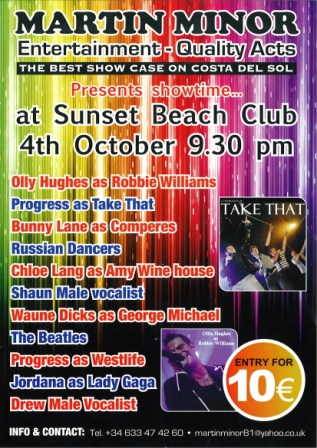 Next Tuesday evening (4th October 2011) we've got a fantastic evening of entertainment in our Moonlight Theatre.,Martin Minor Entertainment are organising the show and have prepared a top class line up of tribute acts which are sure to delight all who attend.
Two of the acts – Take That and Westlife – have been performing all summer at Sunset Beach Club and the guest feedback has been fantastic. Who knows, some of the acts featured on Tuesday evening might become regulars for next seasons musical shows at the Moonlight!
Here's a quick peek at the line up:
Olly Hughes as Robbie Williams
Progress as Take That
Russian Dancers
Chloe Lang as Amy Winehouse
Waune Dicks as George Michael
The Beatles
Progress as Westlife
Jordana as Lady Gaga
As you can see, some great tribute acts that make for an enjoyable evening.
The show starts at 9:30pm and tickets are €10; these can be bought at the entrance.
For more information, please call Martin Minor on +34 633 474260
See you on Tuesday!