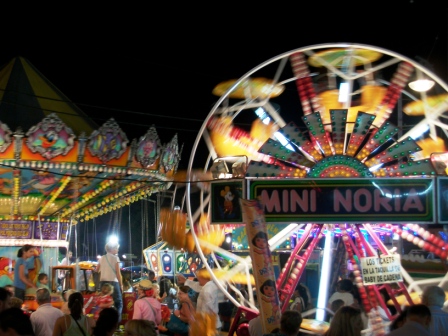 It's that time of year again! Arroyo de la Miel in Benalmadena is getting ready for its annual San Juan Festivities; a fun packed week full of great food; lots of drink; music and flamenco dancing!
If you're here on holiday from the 24th to the 29th June (2012) we highly recommend you take a trip up to the fair and experience the fun atmosphere of a true Spanish "Feria".
As with most local festivities, the San Juan Fair in Arroyo de la Miel is split into two: A day fair (form 12pm to 7pm) which is located in the centre of town and a night fair which is located just above Paloma Park.
The day fair takes place in and around the bars and restaurants in the centre of town and involves eating lots of delicious tapas, sampling all the lovely wine and sherry and dancing to the sound of typical Spanish flamenco music. The atmosphere and buzz is amazing and you are guaranteed a fun day out!
The festivities continue in the evenings with special shows organised in theMezquita Squareevery evening. Most of these shows are performed by students of local dance academies and are a great opportunity to see some authentic flamenco dancing.
After this culture fix, its time to head down to the night fair which is help just above Paloma Park. Here's where you'll find the fun fair with all the rides as well as the typical 'casetas' where all the locals gather for 'round two' of singing and dancing 😉
If you've got kids, make sure you don't miss the special "Kiddies Day" at the fun fair on the 29th June; between 8pm and 2am, all rides will cost only €1!
And if – after all the fun of the feria – you are looking for something a little more low-key, we recommend you visit Salitos Bar. Located just in front of Sunset Beach Club hotel, this chill out bar is the perfect place to unwind and relax after your 'Feria experience'.